SysML Internal Block Toolbox
These pages provide the SysML elements to design SysML block compositions within Internal Block Diagrams.
Access View | Diagram Toolbox: More Tools | SysML 1.2 | SysML 1.2 Internal Block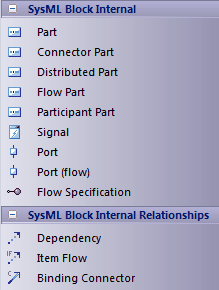 Page

Item

Action

SysML Block Internal

Part

Describe the decomposition of a SysML Block subsystem in the context of its whole, using instances of reusable SysML Blocks.

Connector Part

Create a SysML connector part.

Distributed Part

Create a SysML distributed part.

Flow Part

Create a SysML flow part.

Participant Part

Create a SysML participant part.

Signal

Define a SysML message, containing attributes, exchanged between system blocks in an interaction.

Port

Describe a structural interaction point of a SysML Block which, in turn, connects between interacting parts of a block.

Port (flow)

Describe what flows in and out of interacting SysML Blocks.

Flow Specification

Define a set of flow properties that correspond to individual pieces of a common interaction point.

SysML Block Internal Relationships

Dependency

Establish a traceable relationship describing how one element is dependant upon another.

Item Flow

Specify the items that flow across a connector in an interaction point.

Binding Connector

Establish a connection between two parts in a system decomposition.
The material ("material" includes all pages, documents and on-line graphics) on this web site is protected by copyright law. (C) 1998-2011 Sparx Systems Pty Ltd.