SysML State Machine
These pages provide the SysML elements to build SysML State Machines.
Access View | Diagram Toolbox: More Tools | SysML 1.2 | SysML 1.2 State Machine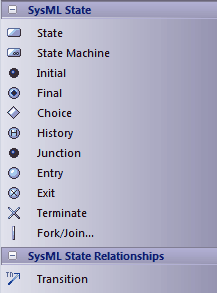 Page

Item

Action

SysML State

State

Declare a significant condition in the life of a SysML Block within its State Machine.

State Machine

Describe the life-cycle behavior of a SysML Block in terms of its states and transitions.

Initial

Declare the starting state of the State Machine.

Final

Declare the ending state of the State Machine, and its completion.

Choice

Declare a Junction with a mandatory 'else' transition.

History

Represent the last active State of the State Machine prior to its interruption.

Junction

Declare a decision point at which a Transition branches out into multiple guarded, alternative paths.

Entry

Declare an Entry point between State Machines, Substate Machines and Regions.

Exit

Declare an Exit point between State Machines, Substate Machines and Regions.

Terminate

Declare a termination State in which the State Machine no longer operates.

Fork/Join

Simultaneously branch / join a set of Transitions.

SysML State Relationships

Transition

Establish a life-cycle path between one State and another, based on its operational conditions.
The material ("material" includes all pages, documents and on-line graphics) on this web site is protected by copyright law. (C) 1998-2011 Sparx Systems Pty Ltd.