SysML Use Case Toolbox
These pages provide the SysML elements to build SysML Use Case models.
Access View | Diagram Toolbox: More Tools | SysML 1.2 | SysML 1.2 Use Cases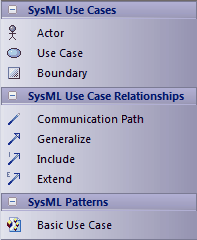 Page

Item

Action

SysML Use Cases

Actor

Represent a user that interacts with one or more SysML systems.

Use Case

Describe the expected functionality of a system as a UML Use Case.

Boundary

Graphically bound elements in a diagram with a border.

SysML Use Case Relationships

Communication Path

Declare which Actors perform in the Use Case.

Generalize

Describe an element as a specialized descendant of another element, containing additional properties and behavior.

Include

Describe one Use Case as a subset of another.

Extend

Describe one Use Case as an extension of another.

SysML Patterns

Basic Use Case

A pattern that creates a typical simple Use Case diagram of Actor, Use Case and System Boundary.
The material ("material" includes all pages, documents and on-line graphics) on this web site is protected by copyright law. (C) 1998-2011 Sparx Systems Pty Ltd.