Apply a User Lock
In the Require User Lock to Edit security mode, where a User Lock is required before any edit can occur, you can set or release the lock in either a diagram or the Project Browser.
Enterprise Architect adjusts the lock for the element, or for the diagram and any elements contained in the diagram.
In a diagram, you right-click on the element or diagram; in the Project Browser, you right-click on the package, diagram or element. In each case, select the Apply/Release User Lock context menu option for the selected item. The following dialog displays.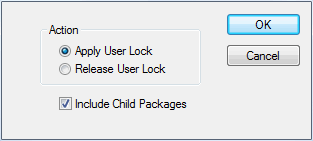 Select the appropriate radio button to apply or release a user lock on the selected item.
Note:
For a package, you can elect to also lock all child packages at the same time. If any elements in the package tree are locked by other users, a list of elements that couldn't be locked displays at the end of the process.
The material ("material" includes all pages, documents and on-line graphics) on this web site is protected by copyright law. (C) 1998-2010 Sparx Systems Pty Ltd.