Customize Visibility of Elements
Some modeling objects are, by default, not listed in Packages shown on diagrams, or in report documents. These include Events, Decisions, Sequence elements, Activity Endpoints and Association Classes. For example, in this Event Test Package, the Events and Decisions contained in the Package are not shown on the Package diagram.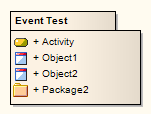 You have the option of turning on display of the hidden elements.
Access Tools | Options | Objects: Advanced
Images

Step

Action

See also





1

On the Advanced Settings dialog, select the checkbox against each type of element to show in Package diagrams and in report documents.

2

Click on the Close button on each dialog in turn.

3

Reload the current diagram if required.

The Package from the earlier example now shows the Event and Decision elements it contains.
Learn more
The material ("material" includes all pages, documents and on-line graphics) on this web site is protected by copyright law. (C) 1998-2015 Sparx Systems Pty Ltd.