Architecture Review Board
The Architecture Review Board performs the primary function of reviewing and assessing architectures, and creating and maintaining standards, and references. The Board is comprised of individuals who are experts in their field; typically these will be the domain architects and other technical leaders invited to give opinions where required. The Board should meet regularly to assess the architectures and the implementations most commonly once a month or more regularly when required. They have an important role at the time the program is setup to select and create the Standards and References and these are maintained and reviewed on an ongoing basis. Thus the course of Information Technology is set by the Architecture Steering Committee and the Architecture Review Board is there to ensure the IT remains on that chosen course.
Enterprise Architect has a number of useful tools to assist with the setup and operation of the Board. These include: Artifacts and Document Artifacts to maintain the Standards and References and maintain the Governance Register, a Team Review Facility for conducting reviews, Element Discussions to create commentary on architectures and their constituents and more.
Architecture Reviews
Enterprise Architect has a number of useful tools that can be used for conducting reviews including the Team Review facility that can be used for planning and conducting Architecture reviews.
Learn More: Team Review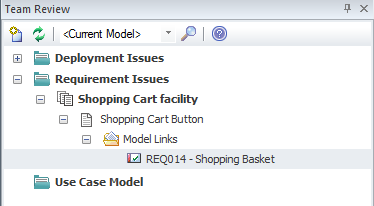 The Model Views tool has a slideshow facility that can be used to orchestrate a walk-through of the architectures showing the diagrams that are of interest to the review process. Model Links can be created to any a review that allow a reviewer to link a variety of elements and diagrams to the review.
Learn More: Model Views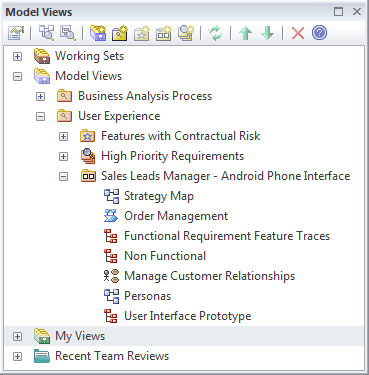 Checklists can be used as part of a review process to ensure that an Architecture, Standard or Reference complies with prescribed criteria for quality and best practice. The list of items can be configured to suit an organization and any number of checklists can be created and applied.
Learn More: Checklist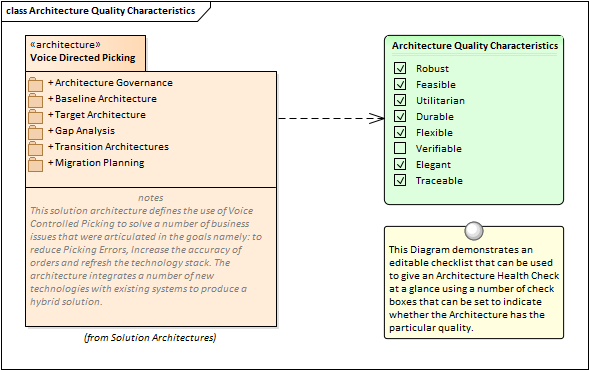 Governance Register
The Governance Register records the activities and decisions of the Architecture Review Board, and important milestones. This includes the acceptance of Principles and the Architecture Process, and the dates and minutes of meetings.
Standards and References
Standards and references are typically developed at the time the architecture program is set up but are often added to as work on architecture is undertaken. For example, new government or industry geospatial standards could be developed and disseminated after the initial standard library had been created.