The
Pro Cloud

Server

in 30 minutes

Host Enterprise Architect cloud-based repositories - anywhere in the world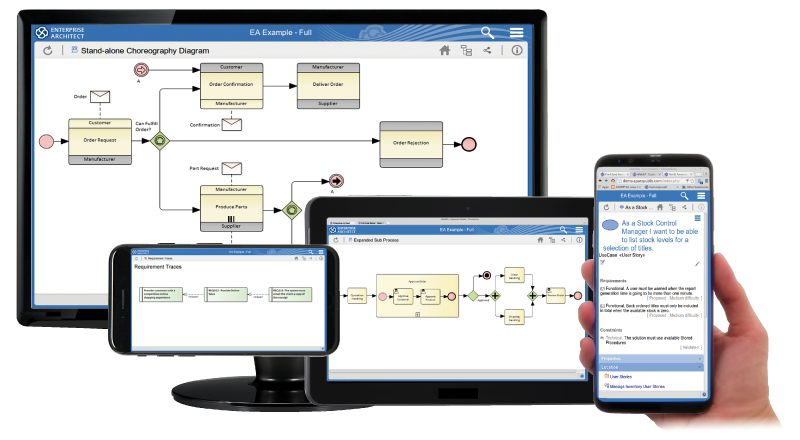 The Pro Cloud Server Suite
WebEA provides a web based solution for viewing and collaborating on Enterprise Architect models using text based updates and team based exchanges. Use WebEA for propagating a design that is to be implemented, as well as reviewing and tracking testing. WebEA provides the ability to access models on mobile devices or from desktops without the need to install the Enterprise Architect application.
Prolaborate is the 'Next Step' for the modeling fraternity - offering tailored views that reduce complexity, focus attention and increase the accessibility of model information for the non-modeling community, who are more concerned with consuming the models.
The latest Floating License server is an adjunct to the Pro Cloud Server that provides a HTTPS service for the distribution of licenses needed for running Enterprise Architect and other Sparx Systems add-in products. Licenses can be accessed from the pool on start up of the application or allocated for a period. On closing the application, or on expiry of a period, the license is returned to the pool providing a mechanism of sharing licenses, allowing an organization to make efficient use of their purchased licenses.
The Pro Cloud Server integrates the data from external providers into Enterprise Architect by relating elements from a wide range of disparate tools that contain items from strategy and requirements down to implementation, work packages and configuration items. Enterprise Architect's Pro Cloud Server Integration acts as an accumulator, bringing content into a single repository ready to be related. A variety of third-party providers can be connected to, including:
Application Lifecycle Management
Autodesk
Azure DevOps (Previously Team Foundation Server)
Bugzilla
Dropbox
Enterprise Architect (external models)
Jazz
SharePoint
ServiceNow
Wrike
Integrate Work Items
Create elements in Enterprise Architect that are linked to the external application's items ready to be updated and synchronized with the push/pull capabilities. Standard items from an external application can be linked into Enterprise Architect, as well as custom-created external items. Team collaboration across applications is supported with the exchange of comments between the items and the elements. For a visual exchange, the external application's items are passed a reference to WebEA for viewing the elements and their related diagrams via a web browser.
Integration to Atlassian products includes Jira and Confluence, and supports both on-site and off-site Jira/Confluence repositories.
Use this integration to create elements in Enterprise Architect that are linked to the Jira/Confluence items ready to be updated and synchronized with the push/pull capabilities.
Link Polarion items, ranging from requirements through to Work items into your Enterprise Architect repository, allowing you to set up relations between these items to form a traceable stream of modeling from design through to implementation.
Notice: Polarion® is a registered trademark of SIEMENS.