Collaborative Games
Collaborative games are aimed at encouraging stakeholders to collaborate with the intent of getting a common understanding of a problem or solution. Enterprise Architect has a Document Artifact that can be used to define the game, including its purpose, the process and the rules. The outcomes or decisions that result from running the game can either be entered into the document or modeled in a diagram. The outcomes can be sent to each participant using the Model Mail feature, and the element discussion facility can be used to discuss the outcomes and any actions that are required.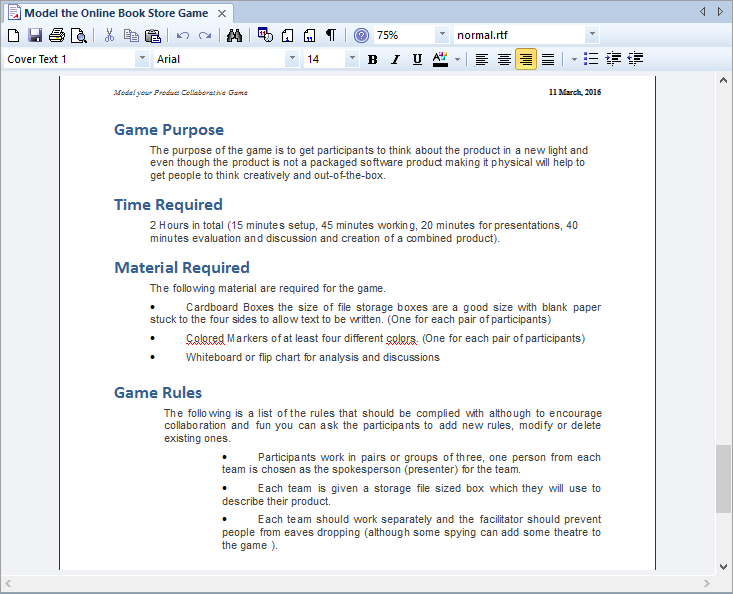 This section lists the main tools available in Enterprise Architect that can be used to perform this business analysis technique. There is also a wide range of additional tools that a modeler might find suitable when applying the technique in a particular context. The complete list of tools is available from the topic 'Business Modeling Tools'.
Document Artifact
The Document Artifact is a convenient element that allows a word processor document to be created inside the repository. This can be used to create the objectives and definition of the game and its rules. The logistics including setup and required materials and briefings for the game facilitator can also be included. The document can contain the list of participants and links to relevant elements in the repository can be created by dragging element diagrams and other items into the document. The outcomes of the game and subsequent discussion can all be entered into the document.
Learn More: Document Artifact
Calendar
The Calendar provides a way to record and present important temporal information such as events and meetings in calendar format. Collaborative Games can be entered into the Calendar and setup as recurring if needed. Event subtypes can be configured to add Collaborative Games as a Meeting Type.
Learn More: Calendar
Model Mail
Model Mail can be used to notify and remind people of a Collaborative Game and to notify them after the game has been played about outcomes and decisions and required actions. Links to model elements and diagrams, matrices, team reviews and a variety of other items can be added.
Learn More: Model Mail