Cluster Report
A cluster is a logically related group of processes arranged in a sequence, this being the plan of the order of the execution of processes.
This Cluster Report was generated for the sample Data Map diagram, in .rtf format.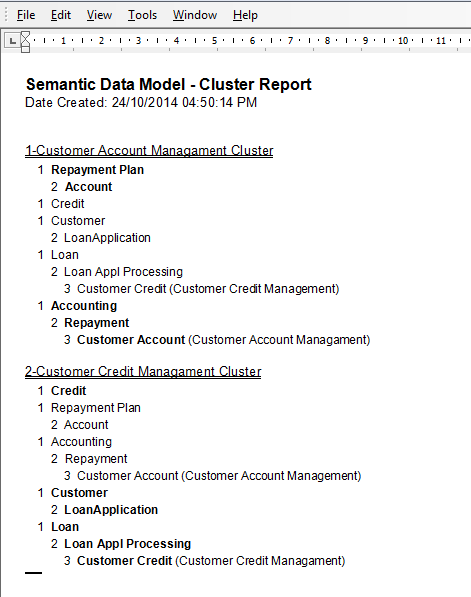 The report shows how each cluster is a logical group of processes or tasks forming a major business process.
The number preceding each entity name is the phase number for the entity. Phase 1 against an entity means that the entity forms a potential resource/element that must be procured/framed before proceeding with the business process.
Entities with phase numbers greater than 1 are potential processes, with their sequence of execution set after procuring/framing the phase 1 entities in the cluster.
After successful completion of Data Map analysis, the phase property of each entity in the Data Map diagram is set accordingly.
Acknowledgement
The algorithm for Cluster Report generation is derived from the book Enterprise Architecture for Integration: Rapid Delivery Methods and Technologies (Clive Finkelstein; April 2006).
Learn more