Document Generation and Reporting
Part of the "

Enterprise

Architect

in 30 minutes" tour
The production of documentation is essential to realizing the full benefit of Enterprise Architect. Enterprise Architect generates high quality documentation in RTF, PDF and HTML formats. You can easily report on an entire project, selected parts of the model, or even group packages together in a manner different from the project view using Virtual Documents or Model Searches.
Rich-Text Format (RTF) reports
Compatible with Microsoft® Word® or OpenOffice, Enterprise Architect's RTF document generator is capable of creating entire specification documents directly from the model. Documents are generated from customizable templates, helping you to create reports and project deliverables that suit your corporate standards. You can selectively include or exclude specific information items to create tailored reports for a wide range of stakeholders. To reach a wider audience, reports can also be generated in PDF format.
The HTML report writer
Enterprise Architect can export an entire model or a single branch of the model to HTML pages for convenient browsing via the web or corporate intranet. The HTML report provides an easy-to-use and highly detailed model tree. In addition, hyperlinked elements make browsing to related information very easy. The HTML documentation is based on user-customizable HTML templates, so you can tailor the generated web-pages to suit your company's standards.
Built-in document editor and linked documents
Enterprise Architect can attach rich-text documents to any element in the model. These Linked Documents are created from customizable templates and are included in generated web and Rich-Text Format reports. Linked Documents thus provide a way to reuse and trace to existing office documentation, or to associate rich, free-form information with model elements.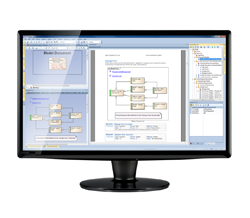 Click to enlarge
Structured use case scenarios
Use case scenarios capture vital analysis information using natural language. Enterprise Architect's Structured Scenario editor lets you use this information to drive downstream development and maximize traceability across the development life-cycle.
You can link scenario steps to domain elements, business rules and glossary terms. From structured scenarios, you can generate test cases, Activity diagrams and other UML behavior diagrams. You can even reverse engineer existing process diagrams into structured, textual specifications to produce documentation deliverables.