Google Cloud Platform (GCP) Icons
Create Google Cloud Platform Diagrams that Specify and Document GCP Virtual Infrastructure
Google Cloud Platform (GCP), was relatively late with its suite of cloud computing services which followed after their initial Google App offering.  Alongside a set of management tools, it provides a series of modular cloud services including computing, data storage, data analytics and machine learning. Google Cloud Platform provides infrastructure as a service IaaS, platform as a service PaaS, and server-less computing environments. Enterprise Architect provides modeling constructs that allow you to create expressive GPC diagrams that specify new cloud infrastructure and platforms or document existing ones. You can also model other Cloud Infrastructure and platform providers such as Amazon's AWS and Microsoft's Azure.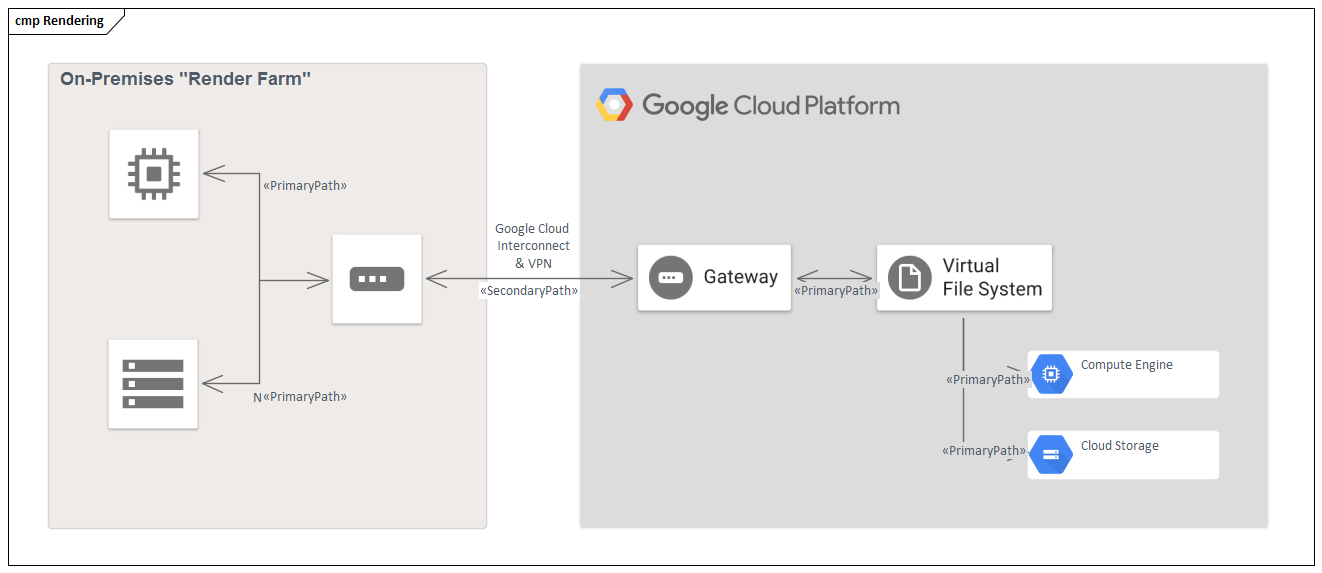 GPC diagram showing an On-Premise Render Farm
While Google offers tools for creating diagrams, the power of Enterprise Architect is that you can create visualizations that show the relationship to on premise platforms and the elements and services can be related to other system life-cycle artifacts such as Strategy, Business Rules, Requirements, Constraints, Applications XML and Database Schemas just to mention a few.
The MDG Technology for Google Cloud Platform (GCP) provides all of the graphics (icons and images) necessary to model GCP architecture diagrams. The icons and images are provided by a Model Wizard framework pattern, which must be imported into your model before you can start creating GCP architecture diagrams. The Google Web Images pattern contains over 250 Image Assets that can be dragged-and-dropped onto diagrams.