Viewing and Managing Locks
When security is enabled, users lock and unlock model elements in order to work on them, which can require monitoring and control. You can periodically view and, if necessary, delete the active locks placed on elements by users.
Access
| | |
| --- | --- |
| Ribbon | Settings > Security > Locks |
Manage User Locks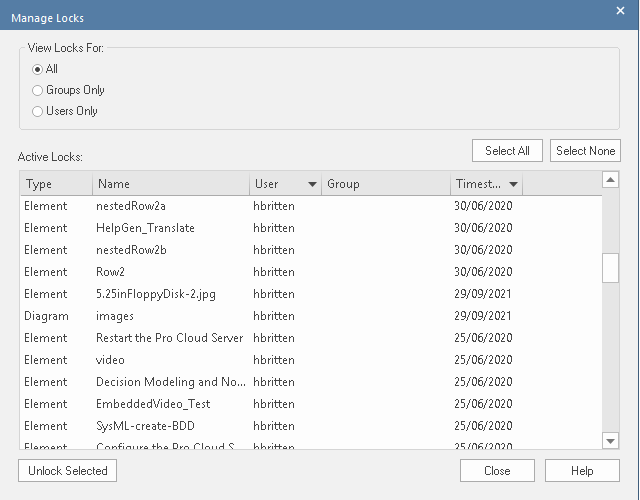 Step

Action

See also

1

On the 'Manage Locks' dialog, in the 'View Locks For' panel, click on the radio button for the type of lock to view.

All
Groups Only
Users Only

Locks of the selected type are listed in the 'Active Locks' panel.

2

To remove a lock, click on it and click on the Unlock Selected button.

You can select (and deselect) multiple locks by pressing Ctrl as you click on each one, or Shift as you click on the last lock in a range.

You can also select all locks in the list by clicking on the Select All button, and clear that selection by clicking on the Select None button (or by clicking off the list).

3

When you have finished reviewing the locks, click on the Close button to close the dialog.
Context Menu Options
The lock entries shown in the list can be sorted, grouped, and filtered, based on the values in any of the displayed columns.  You can also choose which columns to display.
Click on a column header to sort on that column, right-click on any column header to display the context menu.
Option

Action

See also

Field Chooser

Display the 'Field Chooser' dialog, which contains any column headings not currently applied to the page.

Drag a column heading from the 'Field Chooser' into the preferred position in the row of column headings. You can also drag the column headings into a different sequence.

To return a column heading to the 'Field Chooser', drag it out of the heading row.

Enable Group Box

Show or hide the Group Box, in which you reorganize the list sequence of the attributes according to one or more characteristics.

Toggle Filter Bar

Show or hide the Filter Bar, in which you type text strings that the data in the corresponding column must match in order to be listed.
Learn more
Notes
You must have 'Security - Manage Locks' permission to delete user locks; the initial Admin administrator and Administrators group automatically have this permission
You can view locks without the 'Manage Locks' permission, so that you can contact the lock owner if necessary
The 'Manage Locks' dialog does not currently show any Full locks set in the model
If you want to display the resulting information in a more readable layout, you can resize the dialog and its columns