Geography Markup Language (GML)
Model Geographic Features and Generate Application Schemas
You can create expressive and collaborative models of the important features in your domain and use these to generate Geography Markup Language (GML) compliant application schemas that can be consumed by other applications. Many of the disruptive forces and technologies that have changed the way we interact with each other and the world we inhabit, involve geographic locations and features. We drive along roads and stop at lookouts to view coastal features or cityscapes, we travel abroad to view monuments and buildings such as churches and museums, we rely on wind farms for energy and we take off and land at airports to name a few. You can model any geographic features of interest using Enterprise Architect's implementation of the Geography Markup Language which is fundamental for geographic information systems as well as its use as an open interchange format for geographic transactions on the Internet.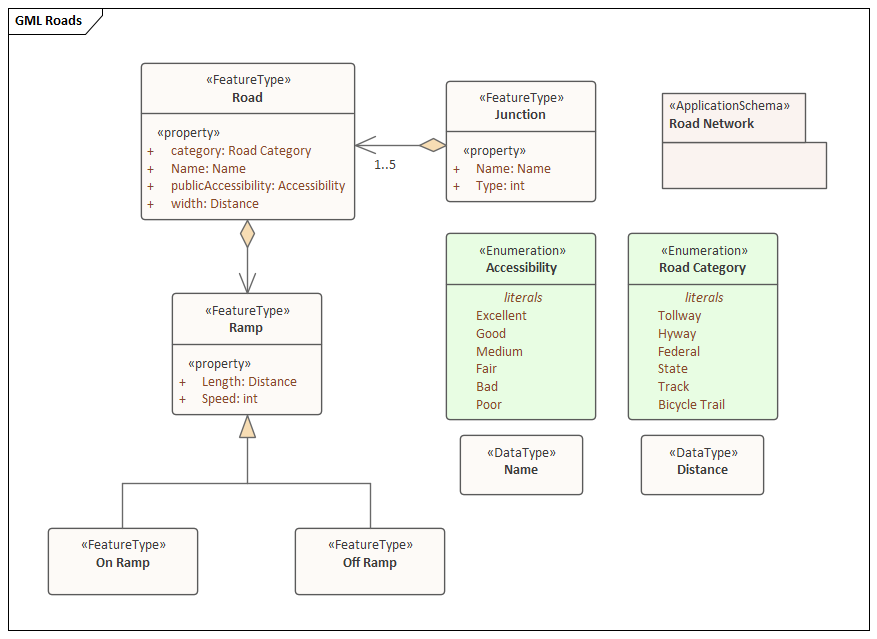 GML Model of roads showing two Features with properties that access two Data Types and Enumerations
GML for Enterprise Architect is an implementation of the Open Geospatial Consortium's Geography Markup Language (GML) 3.3 , which provides an XML grammar for geographical feature modeling capabilities within Enterprise Architect at or later than Release 10.
Through GML, you can:
Apply a UML Profile for the Geography Markup Language (GML) 3.3
Make use of customized diagram types and toolbox pages, for convenient access to elements and relationships to model geographical features effectively
Generate GML Application Schema files