ENTERPRISE
ARCHITECT
Service Oriented Architecture with Enterprise Architect
Service Oriented Architecture (SOA) aims to enhance the efficiency, agility and productivity of an enterprise, by exposing business processes as reusable services on a common software platform. Sparx Systems Enterprise Architect provides an integrated, team-based modeling solution for implementing SOA based on open standards.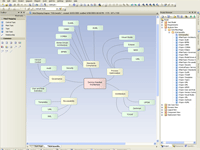 UML-based modeling conveys effective expression
Based on the Object Management Group's (OMG) Unified Modeling Language (UML), Enterprise Architect enables SOA project teams to capture ideas, concepts and designs using industry standard notation. Enterprise Architect also leverages UML Profiles to provide domain-specific modeling capabilities for the broad set of roles within SOA practitioner base.
Enterprise Architect enables modelers to
Brainstorm ideas using the MindMapping UML profile
Model, manage and trace formal requirements to implementation
Capture strategic business processes with the Business Process Modeling Notation (BPMN)
Build and analyze Software Services and Information Schema Models using built-in UML profiles for WSDL, XSD and Information Models
Team collaboration lets you share the vision
Capturing SOA project designs with Enterprise Architect maximizes the visibility and traceability of project concerns. Enterprise Architect supports multi-user access to shared DMBS model repositories such as SQL Server, MySQL and Oracle – helping to unite widely distributed SOA teams easily and effectively.
Industry-Standard Frameworks capture the big picture
Sparx Systems Enterprise Architect provides support for today's industry-standard Architecture Frameworks including TOGAF, Zachman and DoDAF/MODAF (UPDM). Tightly integrated support for these frameworks helps organizations maximize architectural rigor while providing complete traceability for each stakeholder.
Model Management puts you in control
Ensuring an SOA project maintains integrity and meets the expectations of the enterprise is vital to its success. Enterprise Architect maintains project correctness and quality in models using in-built governance, change management and traceability. Project managers and administrators can configure user/role-based security to prevent unwanted model editing, while model auditing can be activated to keep track of who changed what and when. Baseline and version control integration can be configured to baseline model packages to check-in and check-out, and to compare and merge differences.
High Value SOA for the whole team
Enterprise Architect represents an affordable, cost-effective SOA modeling solution for the entire development team. Its rich functionality encourages collaboration across all SOA stakeholders, ensuring the development has enterprise-wide benefit.
Due to the combination of minimal investment cost, maximized functionality and optimized deployment, Enterprise Architect delivers increasing Return on Investment (ROI). Thus the whole enterprise shares a common vision in SOA, further increasing the value of service delivery.