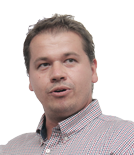 Bohumil Hruska'
Sparx Systems Central Europe



Scott Hebbard
Sparx Systems


Sudden disruption to network and essential services, data leakage and other vulnerabilities arising from compromised security can significantly damage business reputation, undermine consumer trust and lead to serious financial losses.
This webinar provides an outline of the benefits of modeling Cyber Security scenarios in Sparx Enterprise Architect and ways to address the security and safety challenges facing enterprises and systems engineers every day.
In this webinar, you will learn how to build robust systems by:
Modeling threats using the Cyber Security Profile ( based on STRIDE ) introduced in Enterprise Architect 15.1
Tracing threats and vulnerabilities to your Software/Systems models
Resolving the Threat Model by applying selected mitigations
Analyzing, visualizing and communicating the threat model to all stakeholders
This webinar has completed. The recording and Q&A will be posted shortly.