Heat Maps Benefits
Heat Maps can be used to visualize model elements, custom SQL or CSV data in an easy to read format. Use simple visual cues, such as color and relative size, to convey information that can facilitate decision making, identify risk and improve analysis.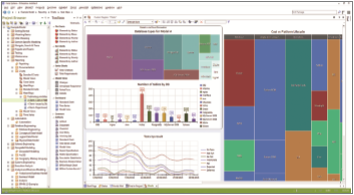 Data Detection
With Heat Maps, Enterprise Architect users can focus on the most relevant data by combining color, size and grouping. Easily identify key dimensions such as urgency and importance and detect anomalies that would otherwise be hidden.
Identify business areas that will provide the best return on investment in terms of human and financial resources.
Diagnose underperforming business segments or architecture, then develop and implement appropriate intervention strategies.
Communicate areas of importance to all key stakeholders before they appear on balance sheets or productivity reports.