MDG Technology for VDML
The MDG Technology for the Value Delivery Modeling Language (VDML) allows you to create VDML models with Enterprise Architect.
This definition of VDML is derived from the Object Mangement Group (OMG) Value Delivery Modeling Language (VDML) Specification (version 1.0, October 2015):
"The purpose of VDML is to provide a standard modeling language for analysis and design of the operation of an enterprise with particular focus on the creation and exchange of value. It provides an abstraction of the operation of an enterprise that is appropriate for business executives, along with representation of supporting detail for business analysts to link strategy and business models to the activities, roles, and capabilities that run the enterprise. The target users are business people-executives, business architects, analysts and managers. Information systems analysts and designers may use VDML models as specifications for the design of supporting information systems."
This image shows an example of one of the VDML diagrams that can be created with Enterprise Architect: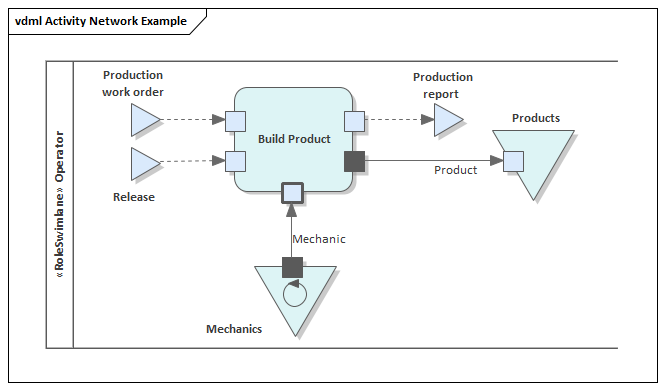 This feature is available in the Unified and Ultimate editions of Enterprise Architect, from Release 15.0.
Access
For the selected Package, open the Model Wizard, select the required Viewpoint and Pattern, then click on the Create Patterns button. The model pattern is created in the selected Package.  When you open the diagram created from the Pattern, the Diagram Toolbox automatically displays the 'VDML' Toolbox page corresponding to the diagram type you have opened.
| | |
| --- | --- |
| Ribbon | Design > Model > Add > Model Wizard : Perspective | Business Modeling | VDML |
| Other | > Business Modeling > VDML > Model Patterns |
Learn more
VDML Specification  (Online Resource)