Add Views
This example shows a customized view called Java Code View, which has been added to the end of the Views list.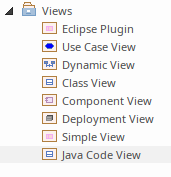 Access
In the Browser window, select a model root node, then:
| | |
| --- | --- |
| Ribbon | Design > Model > Add > Package |
| Context Menu | Right-click on root node | Add | Add View |
| Other | Package Browser caption bar menu | New Package |
Create a View
Option

Action

See also

Name

Type the name of the View (in the example, this is Java Code View).

Set View Icon Style

Click on the appropriate radio button to set the icon to display next to the View name (the Java Code View has a Class icon).

Add to Version Control

If the model root node is under Version Control, this checkbox displays, defaulted to selected.

If you do not want the new View to also be under Version Control, deselect the checkbox.

Version Control

OK

Click on this button to add the View to the Browser window.
Learn more