Interaction Flow Models IFML
The Interaction Flow Modeling Language (IFML) provides system architects, software engineers, and software developers with tools that support the platform independent description of graphical user interfaces for applications accessed or deployed on such systems as desktop computers, laptop computers, PDAs, mobile phones, and tablets. The language was developed by the Object Management Group; the IFML specification (version 1.0. February 2015) is available from the OMG website.
You can access the OMG's UML Profile for IFML within Enterprise Architect.
IFML in Enterprise Architect
In Enterprise Architect you can model application interaction flows quickly and simply through use of the MDG Technology integrated with the Enterprise Architect installer. The IFML facilities are provided in the form of:
Eleven IFML model patterns for Information Entry, Interaction and Wireframe, Searches and Desktop Applications, available through the 'Interaction Flow IFML' page of the 'Create from Pattern' tab (the

Model Wizard

) of the

Start Page

Two IFML diagram types - IFML diagram and IFML Domain Model diagram - accessed through the 'New Diagram' dialog
IFML 'Essential Concepts', 'Core' and 'Extensions' pages in the

Diagram Toolbox
You can, if you wish, make the IFML Technology your default by selecting it in the MDG Technologies window and clicking on the Set Active button.
Example Diagram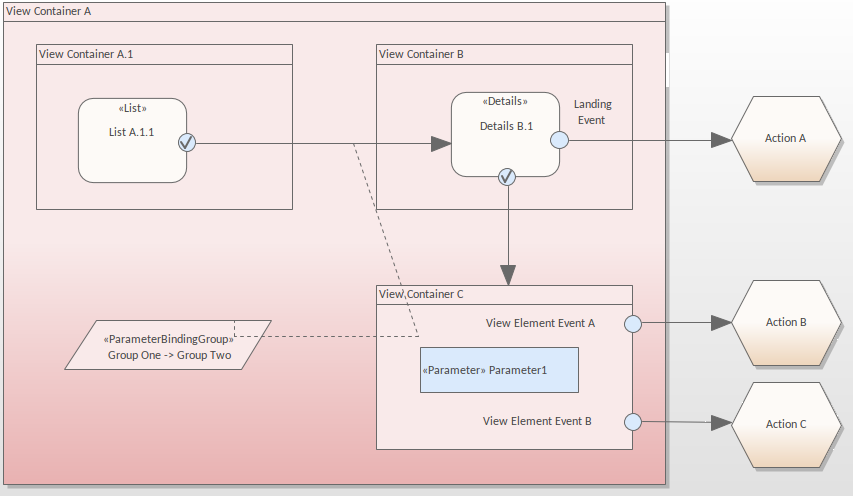 IFML Toolbox Pages
The objects defined by the IFML Specification can be created in your model using the icons from these pages of the Diagram Toolbox: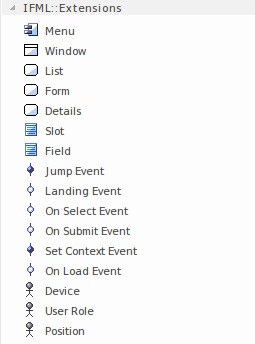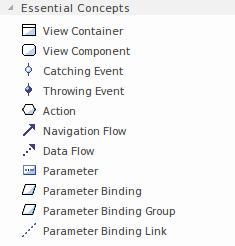 Some objects from the IFML Specification are configured by Tagged Values on the main element type. For example, the View Container element can be set as a Default, Landmark or XOR View Container by setting the appropriate Tagged Value on the element to 'True'.
Learn more