Bookmarks
A bookmark is a visual cue to to the modeler, to monitor or pay particular attention to an Element.  Bookmarks can be attributed any meaning you wish, so they can be used for a variety of purposes to highlight particular aspects of your model.
There are two type of bookmarks:
In this example the Element on the left has a standard bookmark and the Elements on the right have annotated bookmarks.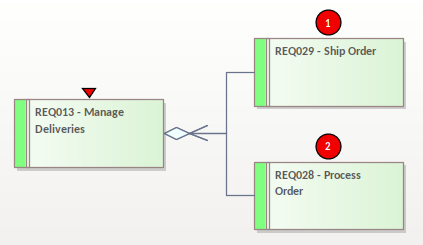 Bookmark Types
| Option | Action | See also |
| --- | --- | --- |
| Standard Bookmarks | A Standard Bookmark is represented by a small red triangle (or red Del symbol) that displays above the element in the diagram or Model Search. It includes features for bookmarking elements based on their maintenance item status and their test case status. | Standard Bookmarks |
| Annotated Bookmarks | The Annotated Bookmarks can be defined with a numerical or text value that is displayed in the bookmark in a diagram. The diagram view of these can be enabled or disabled for that diagram. | Annotated Bookmarks |
Learn more