Standard Bookmarks
Standard Bookmarks can be used to clearly highlight specific Elements in a diagram and can be quickly applied with a single keystroke (Shift+Space). Using the standard bookmarks you can bookmark:
Single elements manually, or
All elements in a Package automatically when they assume a defined status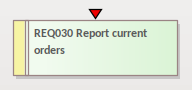 Bookmark Options
Option

Action

See also

Bookmark a selected element in a diagram

Either:

Press
, or
Select the 'Design > Element > Manage > Bookmark' ribbon option

Clear a bookmark on a selected element

Use either of the two options again.

Bookmark Multiple Elements in a Package

Browser window | Right-click on Package | Contents | Bookmarks

The 'Manage Bookmarks' dialog displays, which you can use to automatically bookmark any elements (and, if required, their children) in the Package that have:

New changes defined in the

Maintenance window

New defects defined in the Maintenance window, and/or
Test scripts defined in the

Test Cases window

This is useful to highlight elements that have additional project information.

Contents Sub-Menu

Clear all elements of bookmarks

To clear all bookmarks:

Throughout the current Package, click on the
on the 'Manage Bookmarks' dialog
In the current diagram, select the bookmarked elements (or
for all elements) and then press .
Notes
You should reload the project to update it with the new or cleared bookmarks
The

Find in Project window

provides the facility to search based on Standard Bookmarked elements.