Decision Table Simulation Example
The example Business Knowledge Model (BKM) described in this section is available from the Model Wizard (Ctrl+Shift+M). Select a host Package in your model, invoke the Model Wizard and - from the Perspectives drop-down menu - select 'Requirements | Decision Modeling'.
To access the example used in this section:
Create a pattern for 'DMN Decision | A Complete Example'
Navigate in the

Browser window

to 'A Complete Example | Business Knowledge Models'
It is also available in the Enterprise Architect Example model (EAExample):
Navigate in the Browser window to 'Analysis and Business Modeling > DMN Examples > A Complete Example > Business Knowledge Models'
Double-click on the 'Eligibility rules' element to open the BKM in the DMN Expression window
When a Decision Table is created for a Business Knowledge Model, we can test this BKM by binding some values:

We can provide test values such as these:

Click on the Simulation button

on the tool bar to obtain this result: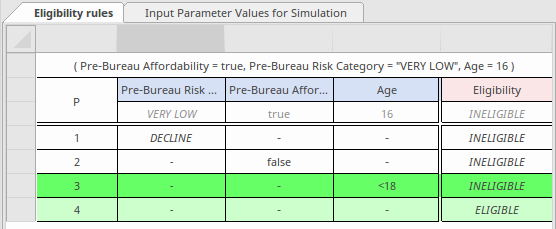 The runtime parameter value will take the place of 'Allowed Values' in simulation mode
Valid rule(s) are highlighted
Since this Decision Table's Hit Policy is P (Priority) the final result is determined by the order of Output Values; since 'INELIGIBLE' and 'ELIGIBLE' are the output values and 'INELIGIBLE' comes ahead of 'ELIGIBLE', rule #3 will give the final result and this applicant is 'INELIGIBLE'.