Synchronize Structural Elements - Internal Block
If you have already defined the Parts and Properties of a Block element, you can automatically display them on the element's child Internal Block diagram and/or Parametric diagram using a simple context-menu option on the child diagram. 
On an existing Block Definition diagram, such as this one: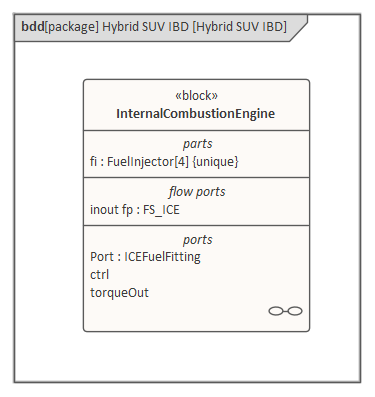 Select the Block element.
Right-click and select 'New Child Diagram |

Internal Block Diagram

' or '

Parametric Diagram

'.
On the new diagram, external to the diagram frame, right-click and select the 'Synchronize Structural Elements' option.
These elements are added to the Internal Block or Parametric diagram, as linked elements within the diagram frame:
Each structural element (such as Ports and Parts) owned by the Block element
Properties defined by existing Association connectors on the Block element

Edge mounted Ports for any Ports defined in the Block