The Summary Window
The Summary window shows a brief, read-only summary of the general properties of the currently selected:
Element (including Packages)
Attribute
Operation
Test
Maintenance item
Resource
It does not display details for Views, Model Packages, diagrams, instances or connectors.
The Summary window immediately displays general information on the item in context, so you can quickly scan a number of items to locate and check those of interest to you. You can highlight a section of text or the complete content, and copy it to be pasted into an external document.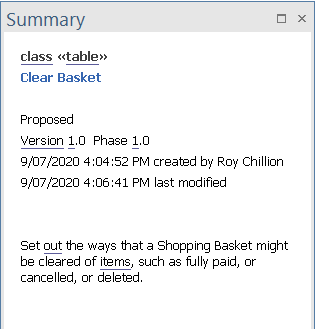 The window is mirrored by the 'Summary' tab of the Inspector window; the 'Summary' tab and Summary window always remain in synchrony.
Access
Ribbon

Start > All Windows > Design > Summary

Start > All Windows > Design > Inspector > Summary

Context menu

In the Browser window, right-click on the object | Properties | Summary

Keyboard Shortcuts

Ctrl+6

Alt+1 > Summary

Alt+1 > Inspector > Summary
Learn more