Item Hyperlinks to WebEA
The elements created from external items can be referenced from the external application via a hyperlink back to the element details hosted on WebEA. The benefits of using WebEA as the reference include:
Easy access to the details via a web- browser
Accesses the most up-to-date data for that element
No need to install a local copy of Enterprise Architect
The hyperlink reference is set in the external item when a new element is created in Enterprise Architect. For example, here we have a hyperlink, inside an item in an external application, to a WebEA page for an element:

The hyperlink reference is system-generated and shown in the Properties window for that related element:

Here is the WebEA page referenced from the external hyperlink: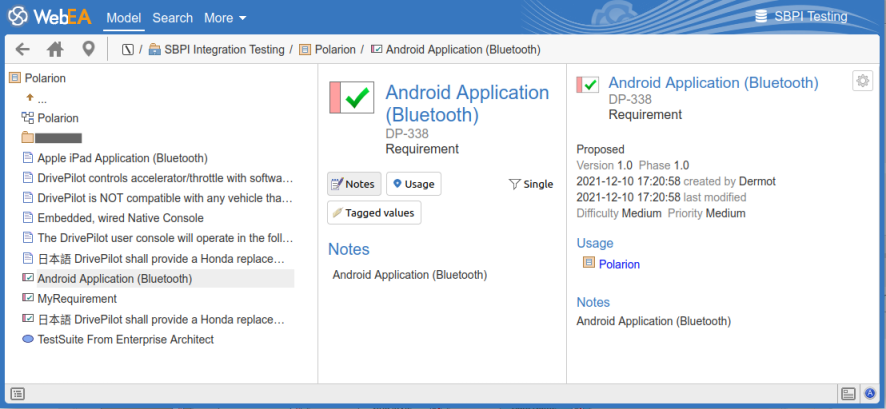 Supported
The Integrations that support hyperlink references to WebEA include:
ALM
Azure Dev Ops (TFS)
Confluence (appended as 'info' field)
Jira
Jazz (including Doors NG)
Polarion
Wrike (as a comment on the item)
The external applications where this is not supported are:
Dropbox
Remote Enterprise Architect
ServiceNow
Configuration
The configuration requires that WebEA is operating for that repository. To enable the external hyperlinks you must set the WebEA URL reference for that repository. The base reference is defined in:
Settings >  Model > Options > Cloud > URL

For more details see the Cloud Page Help topic.
Learn More