Analyzer Services Window
The Analyzer Services window displays the status of each of:
The services being managed by the active Analyzer Script (maintained through the 'Execute > Tools > Analyzer' ribbon option)
Any local services managed separately using the service configuration file (available from the 'Execute > Tools >  Services > Code Miner Service > Edit Configuration File' ribbon option)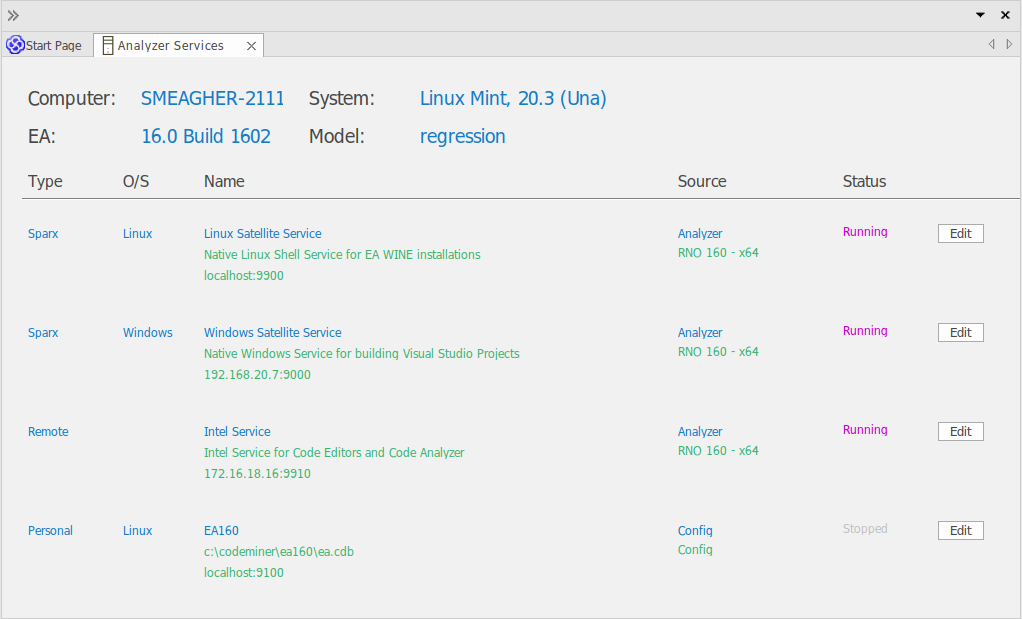 The window lets you see at a glance which intel service you are using, for example, or that the Windows service you use to work in Enterprise Architect is running.
All of the data in the window is read-only, but you can edit the service by clicking on the Edit button. This displays the 'Private Options - Services' page of the Analyzer Scripts Editor window, which you can update as required. 
Access
Ribbon

Execute > Tools > Services > View Status of All Services

Start > All Windows > Execute > Analyze | Analyzer Services

Keyboard Shortcuts

Alt+4 | Analyze | Analyzer Services
Analyzer Services Window Fields
Field

Description

See also

Computer

The work station on which the services are running.

System

The operating system under which the work station is running.

EA

The release number and build number of the version of Enterprise Architect you are using.

Model

The name of the model in which you are currently working.

Type

The type of service. The services listed as type 'Sparx' are Enterprise Architect Services.

O/S

The operating system under which the service runs.

Name

The name and description of the service.

The Linux Satellite Service is managed automatically by Enterprise Architect when the application is running on Linux under WINE
The Windows Satellite Service is an optional service that is typically used in WINE installations to help build Visual Studio Projects on a remote Windows machine such as a VM (Virtual Machine); the service only runs on Windows and is managed locally using Windows Services on the machine itself

Source

The script group or configuration file defining the service.

Status

The status of the service.

When you first open the window, each service initially has the Status 'Test' as the system assesses the service. The Status then changes to the appropriate value, such as 'Running' or 'Stopped'.

Edit

Click on this button to view or edit the service definition.
Learn More