ENTERPRISE
ARCHITECT
Tools & Techniques for BABOK® Guide v3
agile collaboration solution for the global business analysis community

Tools & Techniques for BABOK® Guide v3

BABOK® Guide v3 Knowledge Area Elements

Knowledge Area Topic Definition

Enterprise Architect Sample Models

Enterprise Architect Business Analysis Diagrams

Detailed Model Element Properties

<![if !IE]>
❮
❯
<![endif]>
<![if !IE]> <![endif]>
Sparx Systems, together with the International Institute of Business Analysis™ (IIBA®),
has announced the public Beta release of a toolkit for IIBA's Business Analysis Body of Knowledge® (BABOK® Guide v3),
supported by Sparx Systems' Pro Cloud Server and an MDG Technology within Sparx Systems Enterprise Architect
The Ultimate Toolkit for Business Analysts
Manage projects with confidence!
Improved efficiency, practical real-world modeling examples.
Enterprise Architect can help model and extend BABOK Guide v3 guidelines and principles, to help all stakeholders achieve superior results.
Understand practical examples of how to implement BABOK Guide v3 techniques, using links to online help and model patterns.
Toolkit for Business Analysts:
This toolset will prepare Business Analysts to meet any challenge with instant access to a substantial and respected body of knowledge from the IIBA, in a convenient and familiar web-based format.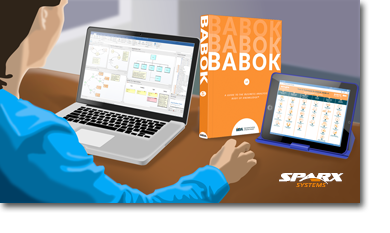 Tools & Techniques for BABOK Guide v3
Enterprise Architect Sample Models
Knowledge Area Drill Down
Example Topic:
Stakeholder Requirements
Business Analysts can easily investigate their Knowledge Area topic of interest, then drill down into sample models.
Using Tools & Techniques for BABOK Guide v3:
The Business Analyst selects the Trace Requirements topic (5.1)
Tools & Techniques diagram illustrates elements of the Trace Requirements topic
The Business Analyst selects the Stakeholders element
The Stakeholders model element offers a description, location and properties
Sample Model:
Stakeholder Requirements
Corresponding sample models can be quickly identified and used as a basis for starting projects.
Using Enterprise Architect Sample Models:
The Business Analyst selects to Stakeholder Requirements sample model
Sample Requirement Models and explanation notes offer context, using familiar terminology for BA's
Each sample Requirement Model is furnished with a description, properties, location, relationship, tagged values, issues and discussion components
Pro Cloud Server
Collaborate on models like never before...
The Sparx Systems Pro Cloud Server opens your entire enterprise to your modeling efforts, enabling stakeholders to have secure access for discussion and review.
The Tools & Techniques for BABOK Guide v3 solution is a model hosted on Pro Cloud Server, enabling not just Business Analysts, but all project members, to collaborate directly with the project... anywhere... anytime.
Individual organizations can host Pro Cloud Server on their corporate cloud, or hosted on an external cloud services provider, accessible via LAN, WAN or Internet.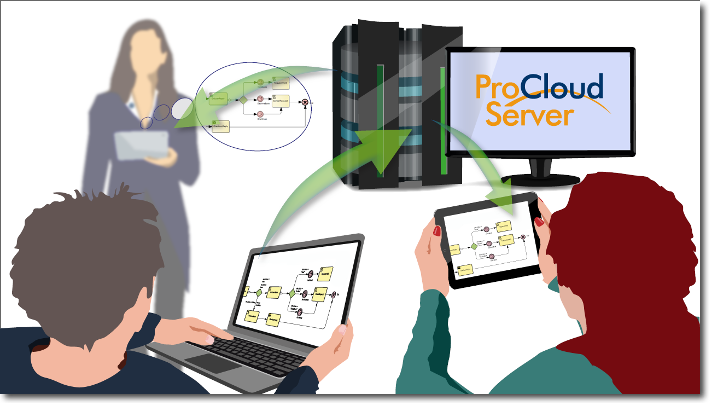 MDG* Technology for BABOK Guide v3
Create model patterns, implement BABOK Guide v3 frameworks in projects.
Using Enterprise Architect's powerful model wizard, model patterns for all BABOK Guide v3 options can be created:
The Framework
Technique Pattern
Standard Documents
Choose parts of the model pattern relevant to the project, such as Standards, References and the Value Chain, from model patterns.
Customize a variety of business process and organization charts to accurately represent your business model.
* Model Driven Generation (MDG) Technology for BABOK Guide v3 is freely available for all editions of Enterprise Architect.
Intuitive template driven modeling accommodates terms familiar to BA's.
Policies, practices and techniques that Business Analysts are familiar with in the BABOK Guide v3 are represented as model templates to help get you started.
The model templates help provide structure while maintaining deep connections to BABOK Guide v3 knowledge and techniques, resulting in better business outcomes and project success.
Refer to the BABOK Guide v3 on a tablet or mobile device to read documentation, see examples and learn how to implement techniques within Enterprise Architect; also take advantage of built-in communication, traceability and collaboration features.