Polarion
®

Integration

Exchange data between Polarion® and Enterprise Architect using the Pro Cloud Server.
Synchronized Integration
Enterprise Architect's server-based integration supports the interchange of Polarion 'items' such as requirements and Live Documents. Push/pull functionality, enables items to be related and changes exchanged between Polarion and Enterprise Architect.
Linking Polarion Items
When importing, Enterprise Architect creates a new External Element for each Polarion item. Select an item from Polarion in EA, and view the meta-data for the item in the corresponding window.
Polarion properties display in the EA's Properties window
Polarion descriptions and comments appear in the EA's Notes window
Polarion discussions and posts appear in the EA's Collaborate window
For example, a Polarion Requirement property such as Priority: Medium appears in the Enterprise Architect Properties window, the Description would appear in the Notes window and the Comments would appear in the Collaborate window.
Collaboration of information, where it is available in Polarion, provides a uniform, cross-integration view of the meta-data, making it easy for Enterprise Architect users to understand the data without the need to leave Enterprise Architect.
Enabled via the Pro Cloud Server
The Pro Cloud Server Polarion integration supports browsing the external provider's items and retrieving lists of items. With these items you can:
Link an Enterprise Architect element to an external item
View external element properties
View and in some cases add to, external item discussions
Export links to WebEA URL's that correspond to the current model
Open external items in a web browser
Import items as elements
Export elements as Work Items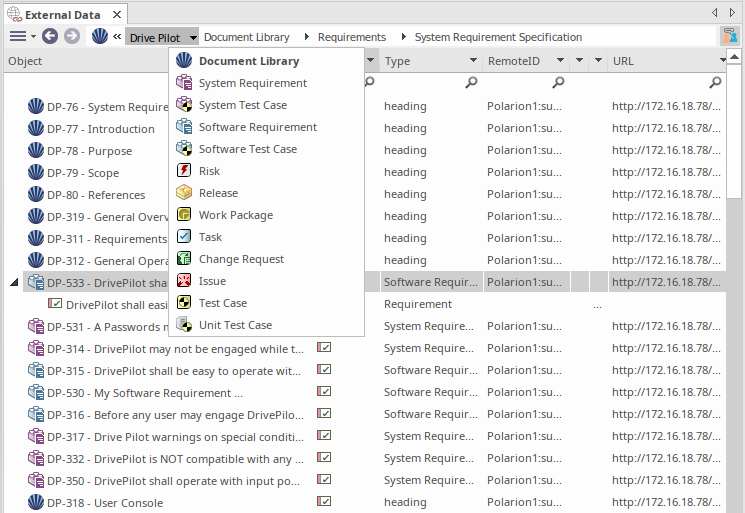 The new Sparx Enterprise Architect Integration for Polarion means a big step ahead making our software development efficient! From Polarion ALM, as leading management system of our tool chain, we can now easily get system requirements, use cases and other artifact into Sparx EA, model them, and push back changes. Nice thing - it works for pure work items or those that are embedded in Polarion live documents. Sparx Systems took even care for our companies wish of a little eye catcher to identify items easily - original Polarion work item icons! Thank you for your support.

Custom Integrations
This integration was fully constructed using the Custom Integration feature of the Pro Cloud Sever and provides a good and clear example for effectively using the CallSBPI automation interface for creating you own custom integrations to external products.
Relevant Help Topics
Notice: Polarion® is a registered trademark of SIEMENS .