ArchiMate
®

3.1 Modeling Tool

Part of the "

Enterprise

Architect

in 30 minutes" tourArchiMate Certified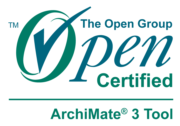 Enterprise Architect is an ArchiMate-certified modeling tool for planning, designing and documenting your organization's enterprise architectures, including enterprise views and viewpoints, business processes, structures, information flows, IT systems and technical infrastructure.

Make the most of the descriptive and analytical functions of the ArchiMate language in Enterprise Architect and help deliver a shared vision.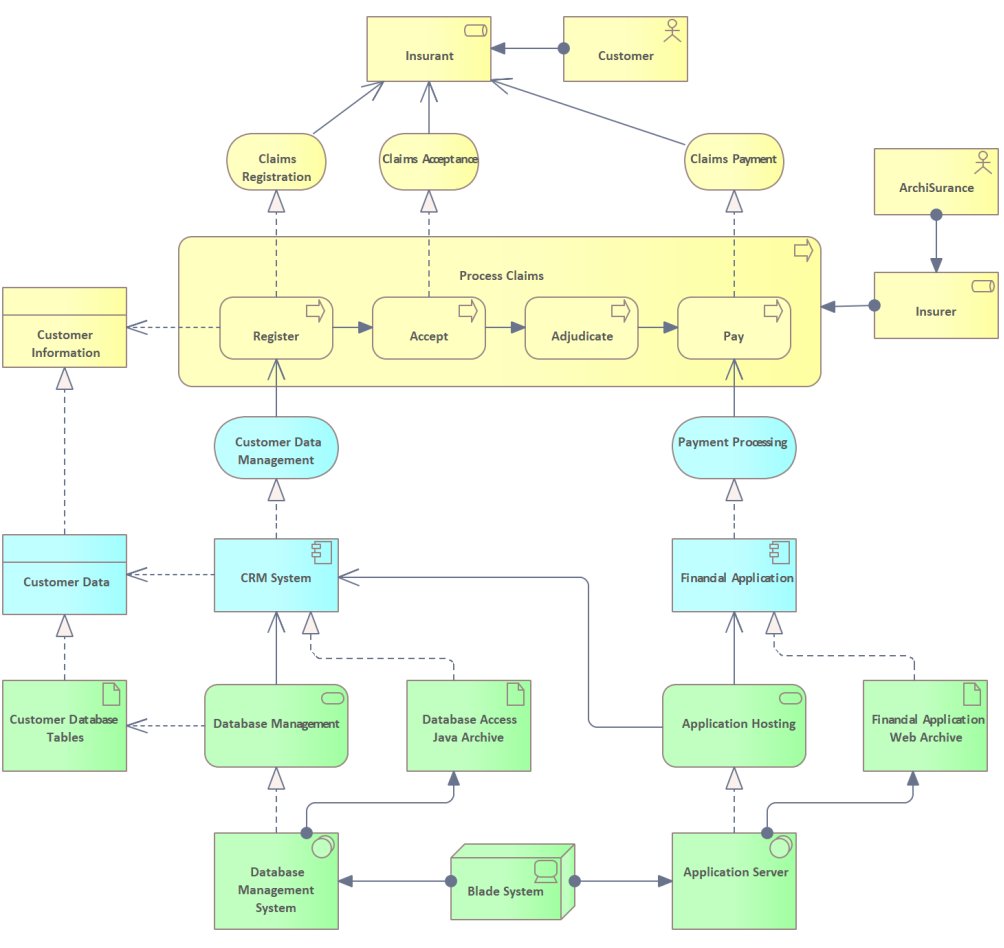 With Enterprise Architect, ArchiMate modeling is more insightful and integrated than ever before.
Save Time and Energy
Get your modeling projects underway with ArchiMate model patterns. Enterprise Architect includes over 1,000 model patterns, offering a faster, easier way to get your projects off the ground.
Templates cover all ArchiMate views from Motivation and Strategy diagrams through to Implementation and Migration - ideal for novice and advanced modelers alike.
View the range of model patterns and example diagrams in our ArchiMate Diagram Gallery.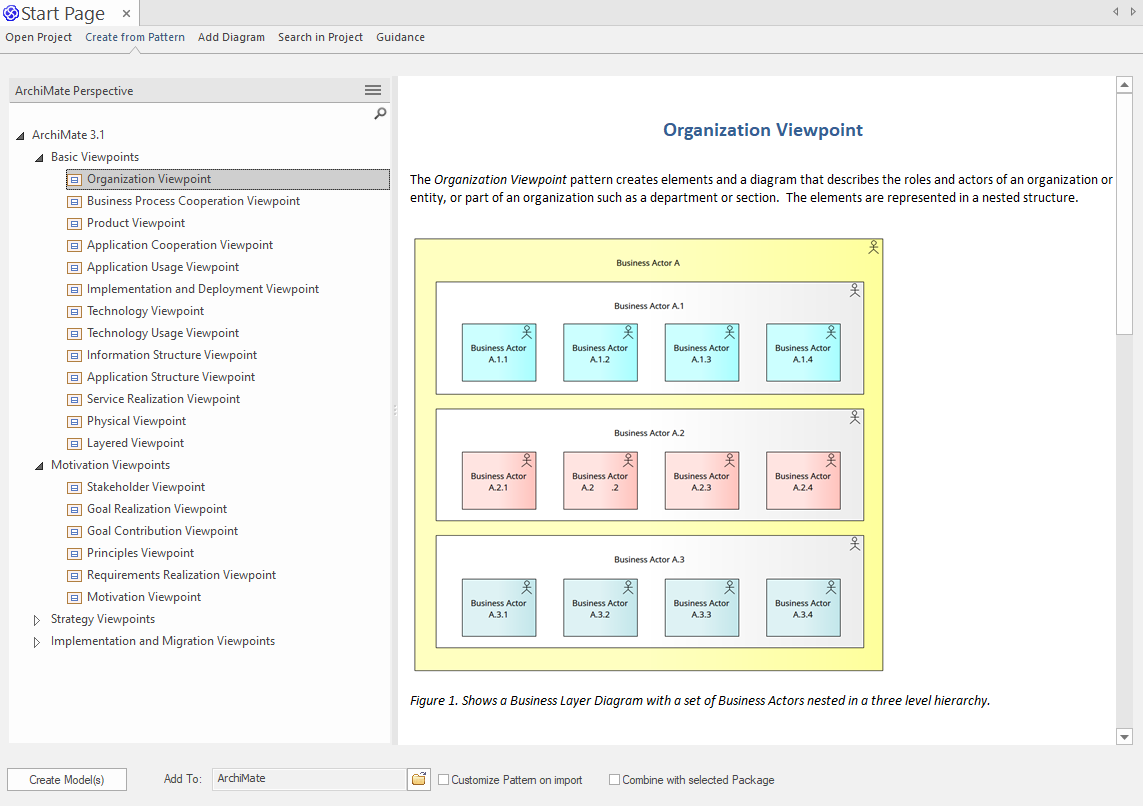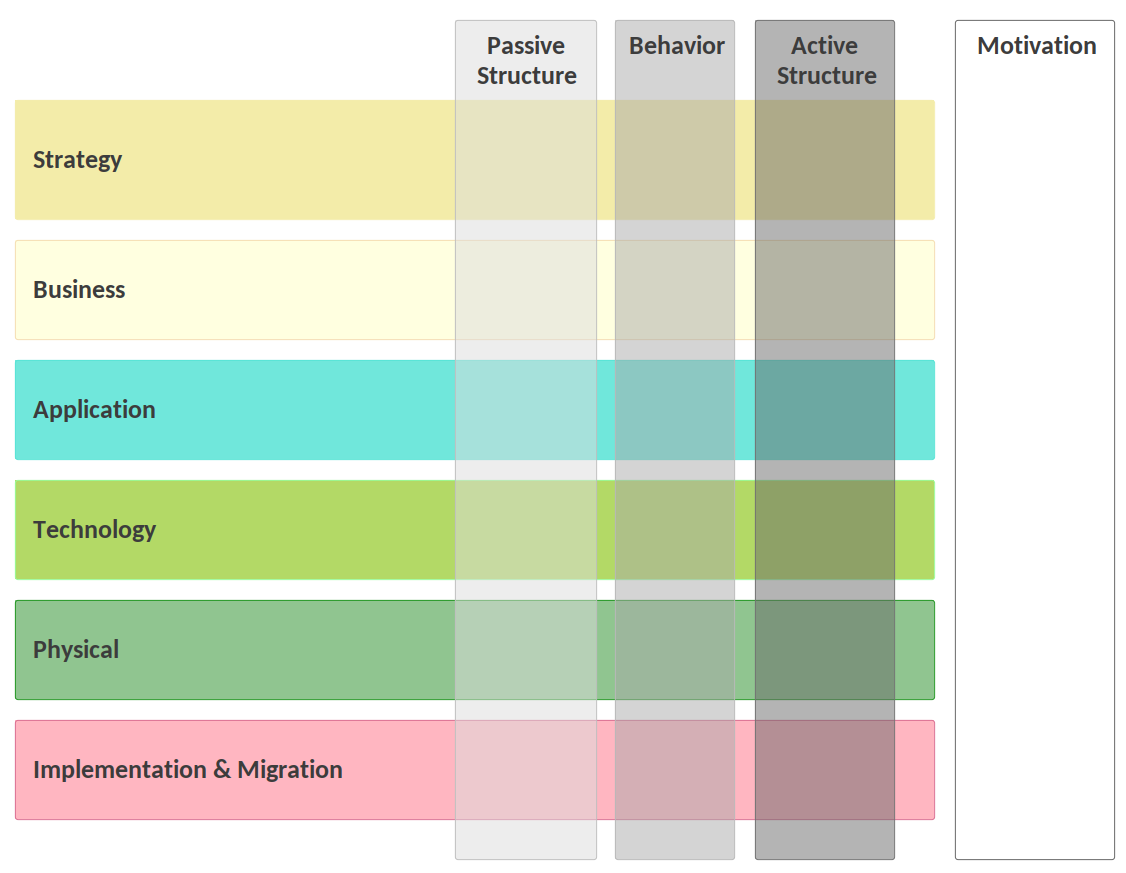 Every Viewpoint Covered
Make the best use of the clarity, insight and focus offered by the ArchiMate language. Enterprise Architect enables accurate, reliable modeling of the 23 example viewpoints detailed in the ArchiMate 3 specification from The Open Group®.
Enterprise Architect version 16 is certified by The Open Group® for ArchiMate 3.1.
Enact Governance
Implement governance with centralized architecture frameworks, business rules, strategies, regulations, guidelines, processes and requirements within your shared model.
Conduct formal reviews and approvals, record, review, and monitor technical debt at the corporate level. Create Document Artifacts in Enterprise Architect and connect corporate governance to subsequent repository artifacts.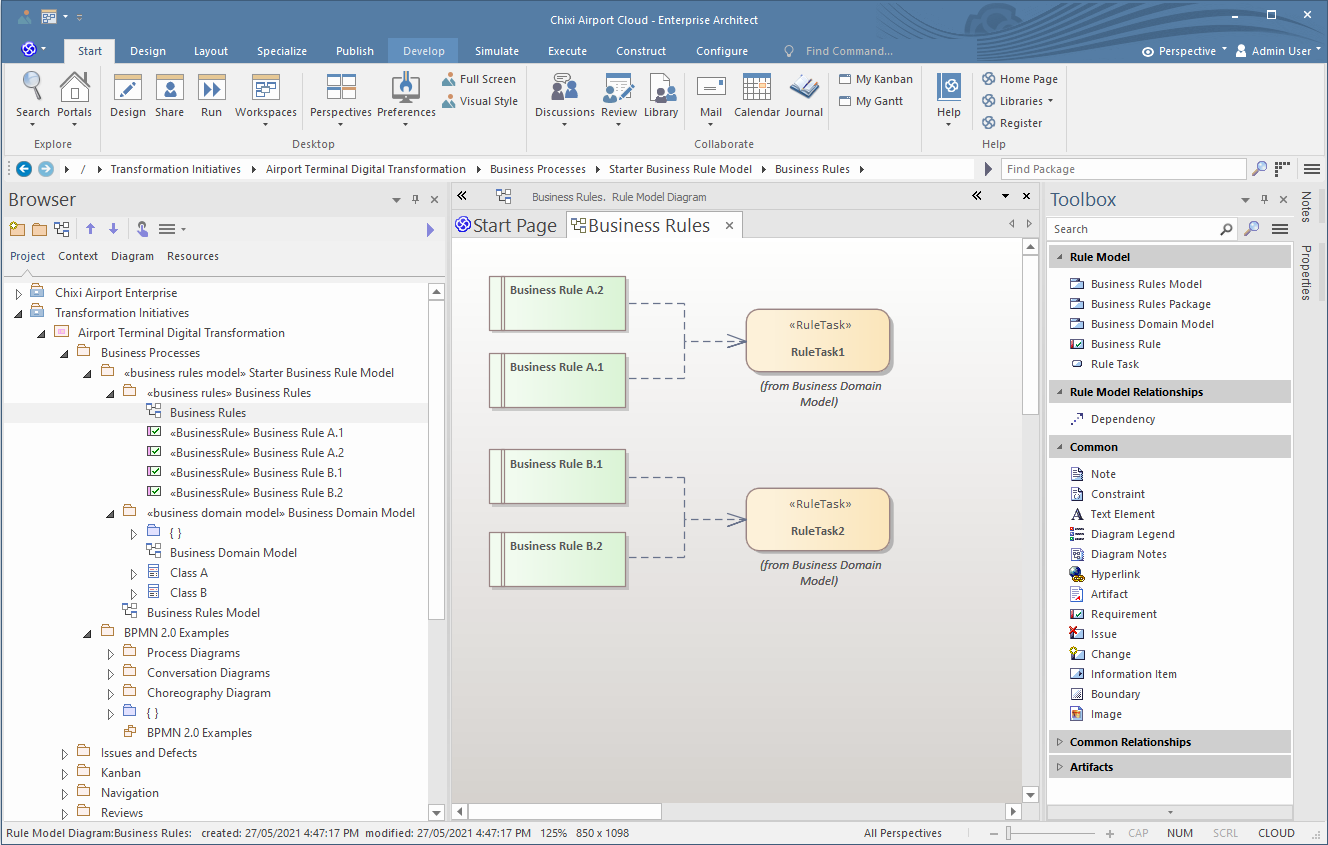 View the Enterprise as a Whole
Enterprise Architect supports modeling from strategy and requirements through to systems design and deployment. With a combined suite of modeling capabilities, the enterprise can be viewed and analyzed as a whole.
Powerful impact analysis tools help pinpoint which systems are affected by a process change and vice versa. Team members and stakeholders can be consulted and notified as changes affect them, ensuring they are informed and connected to the final solution.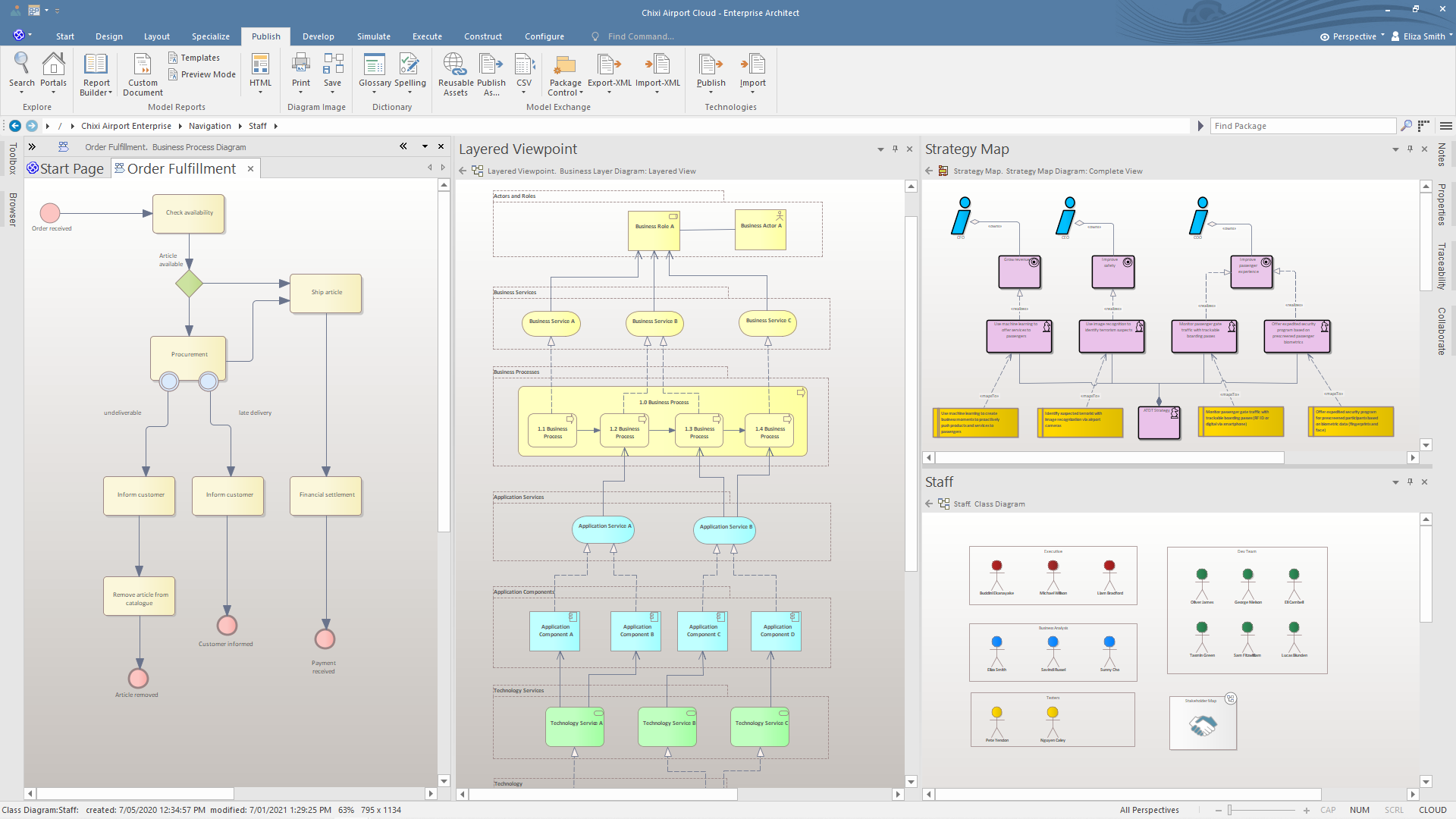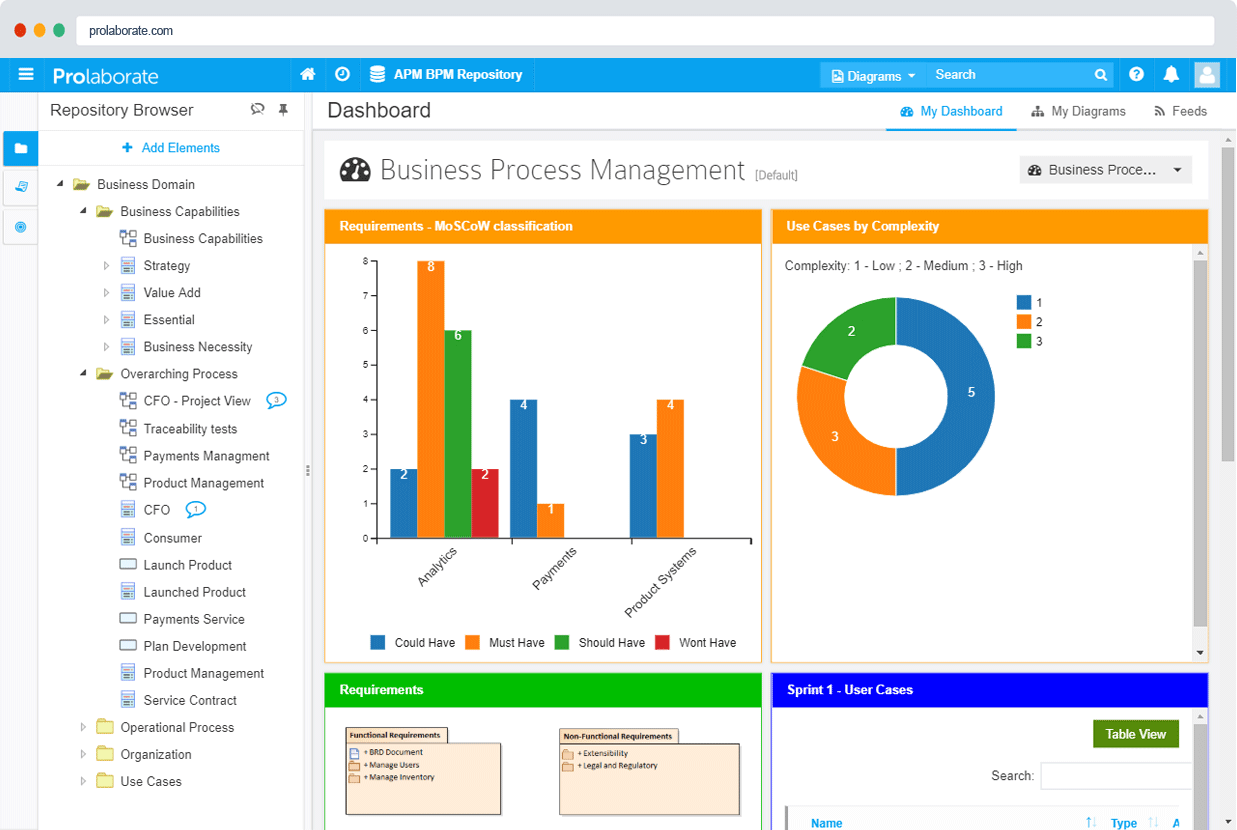 Engage your Stakeholders with Prolaborate

Prolaborate is an Enterprise Architect add-in that bridges the communication gap between subject matter experts responsible for modeling and business stakeholders. Offering tailored dashboards and gated views of model information, Prolaborate simplifies repository information for non-modelers. Conduct custom review workflows, engage key stakeholders and support decision-making.
Learn more about Prolaborate.
Drive Better Decision-Making
The model repository offers a central source of information to help drive enterprise strategy. Access a rich repository of information from which to draw and drive digital transformation and adapt to change.
With Enterprise Architect's wealth of modeling capabilities, your enterprise can share the same repository to compare and contrast the various levels of strategy, business, and technology to collaboratively manage your organization's architecture.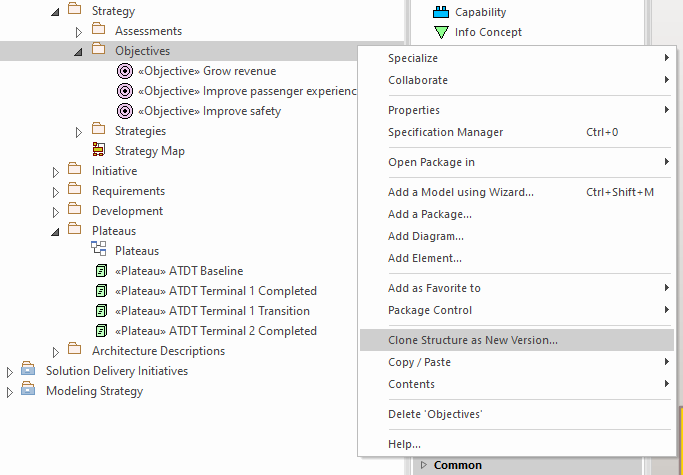 Maximize Reuse
Save precious time and benefit from all your hard work.
Save architecture artifacts and assets for future reuse in the repository.
Reuse entire model structures from the browser.
Simplify access to industry standards and other framework assets and resources.
Complete Traceability
Connect and trace a diverse range of connections across current and future state architectures - from requirements, stakeholders, motivations and goals - all the way to regulatory compliance.
Traceability window: provides detailed information on relationships and dependencies.
Gap Analysis Matrix: Analyze model artifacts and identify potential gaps between solutions.
Cross-Layer Relationships and Traceability diagrams: Elements are not restricted by diagram type and can be used on multiple diagrams. Create a diagram of related elements to depict any level of granularity.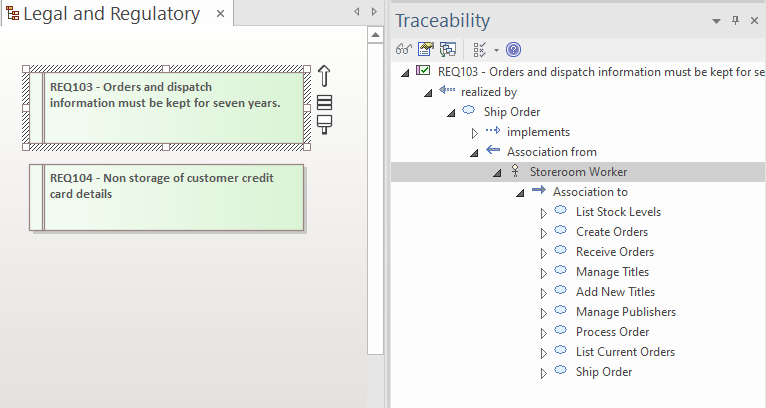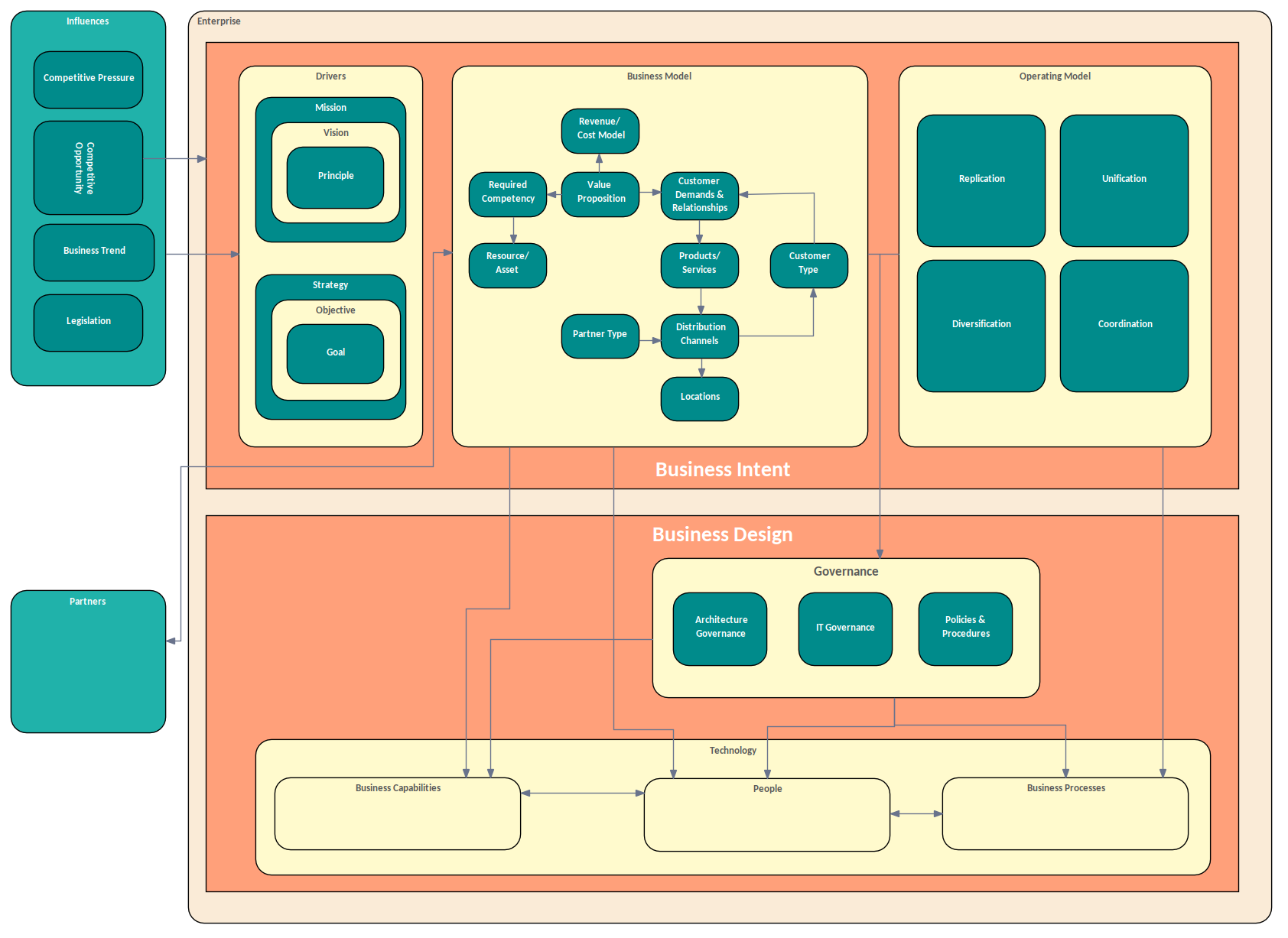 Custom Views and Diagrams
Define your own view and Custom Diagrams with complete access to Enterprise Architect's modeling toolset. Model beyond the confines of any one language or framework. Adapt your architecture modeling approach to the task at hand.
Convey custom information concerning business capabilities, architectures, system interactions and many other scenarios.
Collaborate and Share Focus
Collaborate on shared work items with Model Chat and Model Mail. Open Element Discussions and Create Structured Reviews. Assign work items, estimate project turn-around and improve workflow with Kanban boards.
Open up the model, its contents and meaning to the non-modeling members of an organization. Involve high-level stakeholders and filter design and planning down through the organization.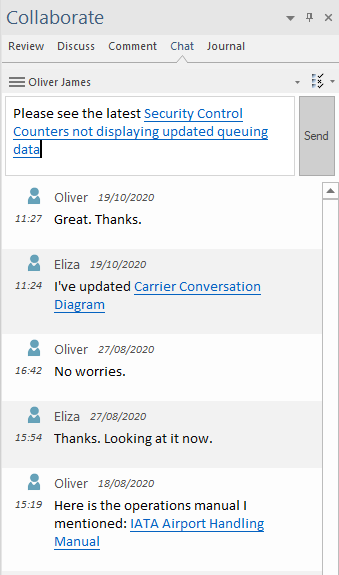 Related Links
Notice: ArchiMate® is a registered trademark of The Open Group®.