Add Shared Keys
To add shared keys to a Key Store, select the Floating License Server / Key Store in the 'Key Store' list, and then select 'Key | Add...' from the header menu.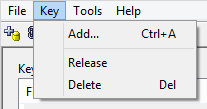 Alternatively, right-click on the 'Keys contained in this store' list and select 'Add...'.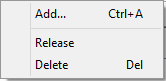 Type in the floating key and click on the OK button.