Message Label

Description
A Message Label is an alternative way of denoting Messages between Lifelines, which is useful for 'uncluttering' Timing diagrams strewn with messages. To indicate a Message between Lifelines, draw a connector from the source Lifeline into a Message Label. Next, draw a connector from another Message Label to the target Lifeline. Note that the label names must match to reflect that the message occurs between the two Message Labels.
This diagram illustrates how Message Labels are used to construct a message between Lifelines.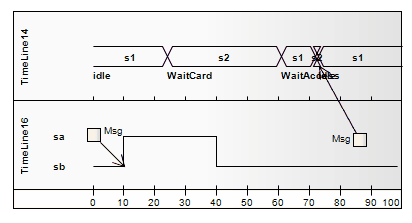 Toolbox icon

Learn more
OMG UML Specification:
The OMG Unified Modeling Language specification, (v2.5.1, p.577) states:
The message-name appearing in a request-message-label is the name property of the Message. If the Message has a signature, this will be the name of the Operation or Signal referenced by the signature. Otherwise the name is unconstrained. If a request-message-label includes an input-argument-list, then either all input-arguments must have an in-parametername given or none may have one.