Inspector - Status
The 'Status' tab on the Inspector window provides a quick outline for reviewing the status and priority of all elements of type Requirement in a diagram. This triage tool helps you to focus on what is most important right now, as well as provides a clear view of what can be postponed.
With a diagram selected in the Browser, and the 'Status' tab selected, you can see:
A list of all elements in a diagram
An indicator of the element Status
An indicator of the element Priority
For each element in a diagram there is a line in the 'Status' tab with:
Element name
Status icon
Priority icon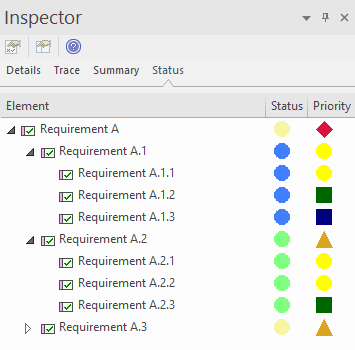 Note:The listing indent respects the Browser nesting of an element.
Configuring the Status color
The color of the status indicator can be user-defined in the 'Status Types' dialog. The shape for the 'Status' indicator is fixed as a circle.  For more details see the Status Type Help topic.
Configuring the Priority shape and color
To give each Priority Type a clear visual reference you can assign a particular shape and a color. The shapes available are:
Square
Circle
Triangle
Diamond
For more details see the Priority Types Help topic.
Learn More