Check Data Integrity
As the models in your repository evolve over time, small aberrations can occur in the database, typically as a result of badly formed XMI imported from third-party systems, network crashes or other unforeseen events that disrupt the integrity of information in the repository. To ensure your repository is in good-health it is recommended that you run the 'Project Integrity Check' function to check that your project data is structurally complete.
You can select a variety of items to check. The integrity check examines all database records and ensures there are no 'orphaned' records or inaccurate or unset identifiers. This function does NOT check UML or other modeling language conformance, only the data relationships and repository structure. So it will check that all attributes have identifiers but it will NOT check that you have used the correct relationship between a Use Case and an Actor.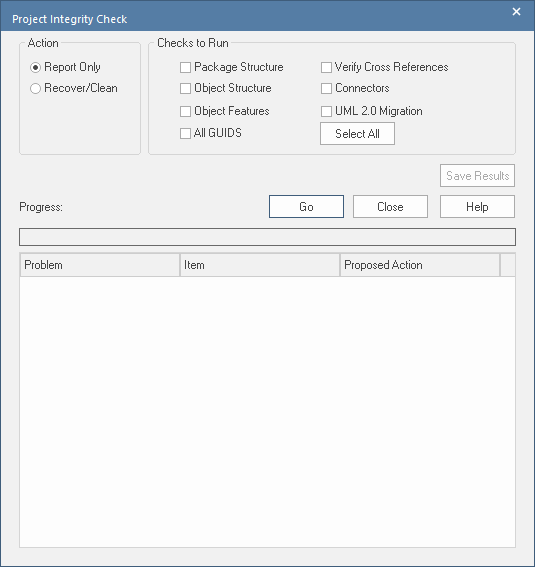 You can conveniently run the Integrity Checker first in 'Report Only' mode to discover and analyze problems it has located. Once you have looked through the list of problems that the check has found and viewed the proposed actions you can then run it again in 'Recover/Clean' mode.
Other than for quite small repositories it is recommended that you don't run all the available checks together as this can take some time to complete. Either run them individually or in small sets.
When Enterprise Architect 'Cleans' the model, it attempts to recover any lost Packages and elements, and generates a new Package called _Recovered_. Check through any elements that are found and, if required, drag them back to where they belong in the Browser window. If they are not required, you can choose to delete them or export them as an XMI export to serve as a backup.
Access
| | |
| --- | --- |
| Ribbon | Settings > Model > Integrity > Project Integrity |
Check the data integrity of your project
Step

Action

See also

1

Open the project.

2

Select the 'Project Integrity' menu option.

The 'Project Integrity Check' dialog displays.

3

Select the checkbox for each check to run:

Package Structure
Object Structure
Object Features
All GUIDs
Cross References
Connectors

Alternatively, to select all checks together, click on the Select All button. This does not select the 'UML 2.0 Migration' option. Do not run the migration with any other check; this is a facility that should be run by itself. (See the UML 2.0 Migration section after this table.)

4

Select either:

The 'Report Only' option to just view a report on the state of your model, or
The 'Recover/Clean' option to recover and clean your project; before selecting this option, back up your project file

5

To write a log of the integrity check, click on the Save Results button and select a log file.

6

Click on the Go button to run the check.

If you want to display the resulting information in a more readable layout, you can resize the dialog and its columns.
UML 2.0 Migration
The UML 2.0 Migration check enables you to migrate the project from UML 1.3 semantics to UML 2.0 semantics. The migration process currently converts activities that are invocations of operations into called operation actions as per the UML 2.0 specification.
The UML 2.0 Migration option is an exclusive process that does not enable any of the other checks to be selected. When you click on the Go button to perform the migration, a prompt displays for you to confirm the operation.
Notes
In the Corporate, Unified and Ultimate Editions of Enterprise Architect, if security is enabled you must have 'Check Data Integrity' permission to perform a data integrity check
Learn more