Collaborating and Sharing
Enterprise Architect is built from the ground up as a collaboration platform and while it is possible to work in isolation, great power of expression will come from collaborating with other people, including colleagues, customers, specialists and others. The tool has the power to create relationships between content that is typically disconnected and often kept in silos. The ability to see information from disparate disciplines and view points provides a refreshing and compelling view which is unique to Enterprise Architect and you and your team will see model connections and share ideas that you might not otherwise have been able to visualize.

Collaboration features at your finger-tips on the Collaborate panel of the Start ribbon.
There is a range of features that facilitate collaborative modeling and can be used in isolation or together, creating unprecedented value in a project or an enterprise as people share knowledge, ideas and provide critical analysis of a model or concept. Regardless of where you are in the world or what language you speak, your colleagues are not far away and the tools allow you to collaborate as though working in the same office. These tools include:
Discussions -  discuss ideas and concepts
Reviews - review model content with any number of people
Chats - conduct informal and immediate chat sessions
Mail - in the Model Mail system for detailed conversations and linking to model content

Calendar

- keep track of important project dates
Library - a catalogue of important project documents and references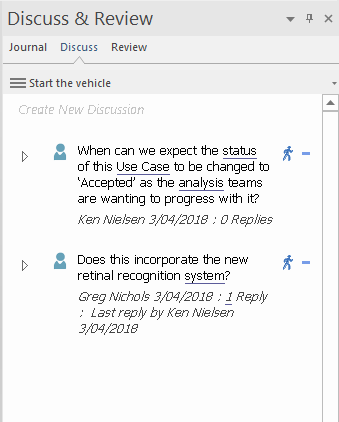 Discuss & Review window showing two separate discussions