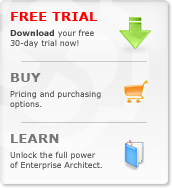 Sparx Systems and Geoplex announce partnership focused on modeling tool deployment in geospatial sector
Geospatial solution provider Geoplex partners with leading modeling tool vendor Sparx Systems to provide enhanced tools and support for the growing geospatial solutions market.
Creswick, Australia, July 4, 2011 – Sparx Systems, a leading vendor of high performance visual modeling tools based on open standards, today announced a partnership with Geoplex. The partnership follows the ongoing success of Sparx Systems' flagship modeling platform, Enterprise Architect, within the geospatial sector. Widely used within the geospatial community to manage information architectures, Enterprise Architect has been adopted within the International Organization for Standardization (ISO) to maintain all ISO19100 family models for use by the members of the ISO/TC 211 community in the creation of standards.
Geoplex combines expert geospatial knowledge and modern agile processes to help organizations successfully design and implement geospatial databases and applications, and integrate these into broader business systems.
Sparx Systems Enterprise Architect supports requirements definition through to deployment for a wide range of solutions, including geospatial business solutions, and embraces the full product development lifecycle while facilitating the integration of models between systems.
"Our partnership with Geoplex is a very exciting development at a time, when business is increasingly looking at the integrated solutions that are possible through geospatial technology," said Ken Harkin, Business Development Manager at Sparx Systems. "Interoperability among information technologies, enabled through new geospatial standards, creates opportunities that will promote a new generation of advanced business solutions and applications. Enterprise Architect is supporting this future on a global basis."
Geoplex General Manager Adam Smith said "The relationship with Sparx Systems will help underpin our capability to provide world class modeling and design services to the rapidly expanding geospatial marketplace. We use Enterprise Architect widely in our systems engineering process to model and build geodatabases, manage requirements, design software and perform lifecycle planning. The Enterprise Architect toolset is well known for allowing rapid development of well-designed and documented software tools, and the addition of core geospatial modeling capabilities means the tools will play an even more important role in geospatial solutions. We're really excited to be working with Sparx Systems."
Enterprise Architect 9, the most recent product release from Sparx Systems, is available for download and evaluation from: http://www.sparxsystems.com/ea9
About Sparx Systems
Sparx Systems specializes in high performance and scalable visual modeling tools for the planning, design and construction of software intensive systems.
With customers in industries ranging from aerospace and automotive engineering to finance, defense, government, entertainment and telecommunications, Sparx Systems has won three consecutive SD Times awards and is the leading vendor of innovative solutions based on the Unified Modeling Language (UML) and its related specifications. A Contributing Member of the Object Management Group (OMG), Sparx Systems is committed to realizing the potential of model-driven development based on open standards.
The company's flagship product, Enterprise Architect, has received numerous accolades since its commercial release in August, 2000, including two Jolt and Visual Studio Magazine Reader's Choice Merit awards. Now at version 9, Enterprise Architect is the design tool of choice for over 250,000 registered users world-wide.
About Geoplex
Geoplex specializes in enterprise geospatial and data management solutions. Geoplex has an experienced team of industry leading GIS software developers, architects and project managers who use innovative approaches to deliver mapping applications for servers, desktops, tablets and smart phones. Working with the latest geospatial technologies, the Geoplex team build high-performance spatial solutions to solve real business problems.
Geoplex has developed a method of working in partnership with organizations using agile approaches – our success is a direct derivative of our collaborative approach.
Geoplex has offices located in Melbourne and Canberra, and is Australian owned and operated (www.geoplex.com.au).
Media Enquiries:
Estelle Bell
Sparx Systems Pty Ltd
marketing@sparxsystems.com