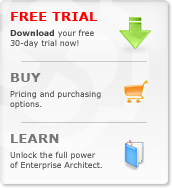 Sparx Systems releases Enterprise Architect 11
Sparx Systems is pleased to officially announce the release of Enterprise Architect 11
CRESWICK, AUSTRALIA April 30, 2014 - Sparx Systems today released the newest version of its flagship Enterprise Architect software, a versatile visual-modeling tool used worldwide by software developers, enterprise architects, business analysts and others involved in planning, designing and developing large corporate systems.
Sparx COO Tom O'Reilly said changes to Version 11 are wide-ranging: "a reflection of our diverse user base and the versatility of the tool."
He said the common thread linking all the current improvements is a focus on shortening the development cycle and giving project teams better ways to communicate, share data and track changes. "Our developers set out to boost productivity and make sure our software keeps up with constantly-evolving best practices - while still giving users the comfort of a familiar look and structure."
O'Reilly said the new release offers "something for everyone," but the benefits vary depending who is using the software and their role on the development team. "An architect uses a different set of features and tools compared to an analyst, and an analyst doesn't use all the same features as a project manager.
"Our software supports more than a dozen specific roles and activities in the development process," he said. "People in every role who tested Version 11 loved the changes.
"Some new features, like a capacity for cloudsharing the full project repository, can be helpful to pretty well everyone using Enterprise Architect, regardless of their role on the project team."
O'Reilly said Enterprise Architects who pre-tested the release were especially enthusiastic about the new Charts and Dashboards feature and the new Element Discussion window - two features that will also be useful to other team members.
Charts and Dashboards enable users to instantly convert project-related statistical data into easily understood visual graphs that provide team members with 'at-a-glance' views of key performance indicators. The Element Discussion window enables team members to hold conversations at the most granular level around each and every element in Enterprise Architect, an improvement that enables architects to bring a more precise focus to their discussions, questions and requests for feedback.
O'Reilly said Software Developers who tested the new release were "delighted" with its new ability to capture some application logic while auto-generating compilable source code from State Machine diagrams. Earlier versions of Enterprise Architect were able to generate code, but without including any details about methods.
"This one change saves developers a tremendous amount of time by automatically creating complex code directly from a state machine," said O'Reilly. "And by 'complex', I mean code that includes advanced constructs like deep history and, when programming in C++ , providing full support for UML constructs like parallel regions."
He said a lot of the early feedback from Business Analysts singled out the new Specification Manager. "It gives them a better way to add information to models," said O'Reilly. "This strengthens their capacity to capture and document the kinds of nuanced, detailed background needed to support a project, and that capacity is really important to most analysts."
He said Sparx introduced the Specification Manager to Version 11 after "repeated requests" provide a way to link blocks of descriptive text to specific elements in the model. "We actually take it one step further and integrate the text with other related information like tests, project management data, team discussions, existing documentation and traces to other elements in the model," he said.
O'Reilly said many of the changes in the new release were suggested by members of Sparx' community: its user base and its resellers and consulting partners.
"I think one of the reasons we've grown ten-fold in the past decade is because we do listen and we do act on what we're hearing," he said. "Our user-base is so diverse in the way they use our tools and so dispersed around the world we really have to listen carefully if we want to stay in the game."
Sparx currently has a registered global user base of more than 300,000 licensed users. This user-base is supported by a global network of Sparx' consulting partners. These partners provide end-users with value-added mentoring, training and on-site technical support.
About Sparx Systems

Sparx Systems specializes in high performance and scalable visual modeling tools for the planning, design and construction of software intensive systems.
With customers in industries ranging from aerospace and automotive engineering to finance, defense, government, entertainment and telecommunications, Sparx Systems has won four consecutive SD Times awards and is the leading vendor of innovative solutions based on the Unified Modeling Language (UML) and its related specifications. A Contributing Member of the Object Management Group (OMG), Sparx Systems is committed to realizing the potential of model-driven development based on open standards.
The company's flagship product, Enterprise Architect, has received numerous accolades since its commercial release in August, 2000, including two Jolt and Visual Studio Magazine Reader's Choice Merit awards. Now at version 11, Enterprise Architect is the design tool of choice for over 300,000 registered users world-wide.
Media Enquiries:

Scott Hebbard
Sparx Systems Pty Ltd
marketing@sparxsystems.com