Refine Browser Content
The 'Project' and 'Context' tabs of the Browser window give you access to your entire model structure and sections of the model located in and selected from that entire structure.
However, for more detailed work you would be concentrating on one or more specific Packages, and for multiple Packages you might be working in different areas of the model. Rather than scroll through the whole model to locate and switch between the Packages you need, you can identify those Packages as Favorites and either flip directly to them in the 'Project' tab or - even easier - just call them into the 'Context' tab. This also makes it a lot easier to return to the same area of the model to continue working across several work sessions.
Note that the 'Favorite' Packages are registered against user IDs, so User Security must be enabled for this feature.
This feature is available in the Corporate, Unified and Ultimate Editions of Enterprise Architect, from Release 15.0.
Identify Favorite Packages
To add a Package to a 'Favorites' list, right-click on it in the Browser window and select the 'Add as Favorite to' context menu option. A short menu displays, listing 'Current User' and the security groups to which your user ID has been assigned.

Click on the 'Current User' or appropriate group to add the Package as a 'Favorite' for users who login under that ID.
To see the Packages listed as 'Favorites' for a security group, click on the

icon in the Browser window toolbar, and expand the appropriate group.

Work on a Favorite Package
You can set focus to a 'Favorite' Package in either the 'Project' tab or the 'Context' tab of the Browser window. Open the required tab, then click on the

icon in the window toolbar, expand the appropriate group and click on the Package name.
In the 'Project' tab, the Package is located and highlighted in the model structure
In the 'Context' tab the Package becomes the focus of the tab
If you subsequently select another 'Favorite' Package, that becomes the focus of the open tab, which makes it very easy to select Packages and switch between structurally separated Packages.
Manage Favorites
After you have worked with a 'Favorite' Package for a while, you might not need to focus on it and therefore could remove it from the 'Favorites' list.
To do this, click on the

icon in the Browser window toolbar and select the 'Manage Favorites' option. The 'Manage Favorites dialog displays.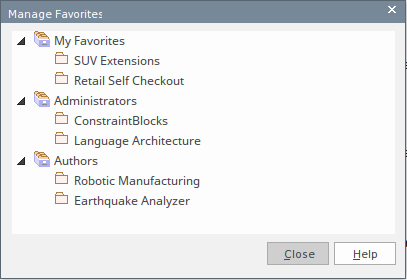 Right click on the Package to remove from the dialog, and click on the 'Remove' option. The Package is immediately removed from the list and is no longer flagged as a 'Favorite'.
Learn more