SysML Simulation with OpenModelica

Simulate and graph SysML parametric models
Simulate and Graph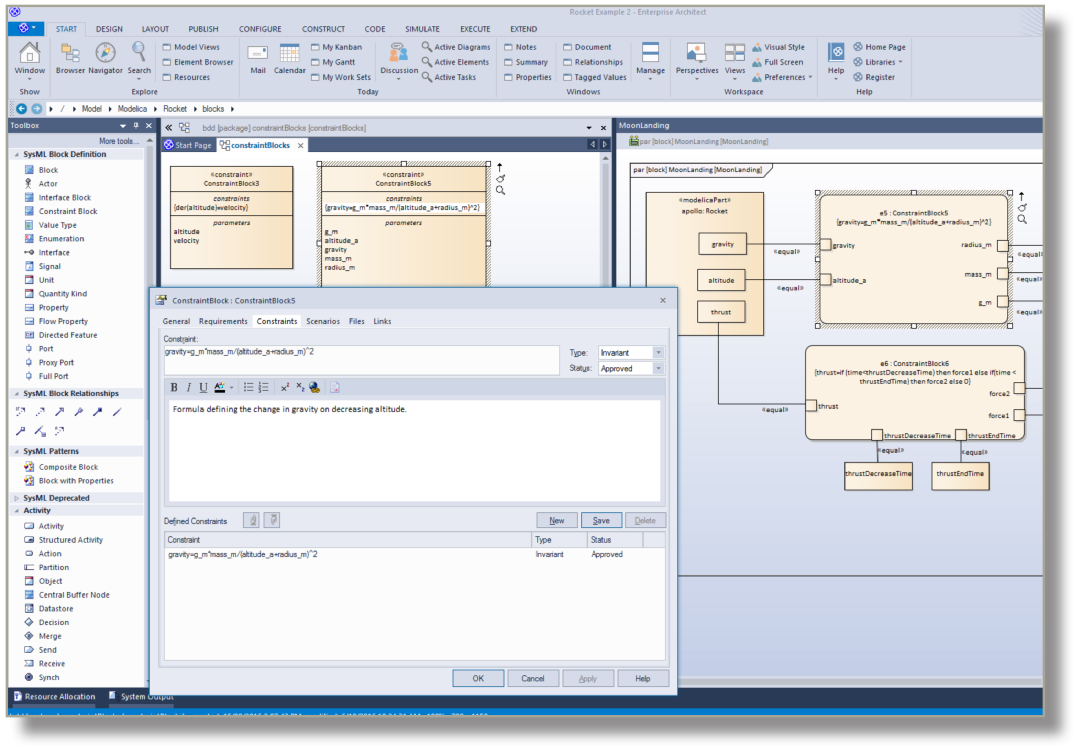 OpenModelica can interpret complex mathematical results from your SysML model by producing compelling, detailed graphs to compare and contrast simulation results.
Interpret a range of factors from graphs: gravity; height; object mass; and other integral system attributes that may not be apparent from the underlying SysML model.
Bring the power of mathematical analysis into the heart of Enterprise Architect.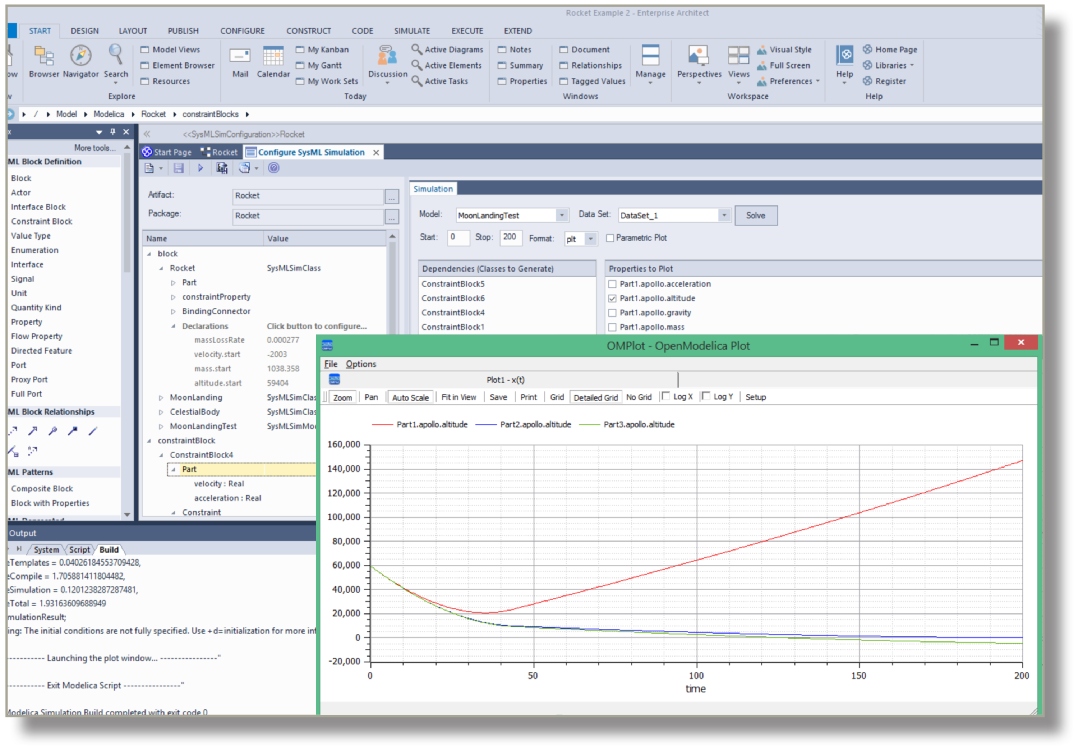 Describe and Annotate
Annotate your existing SysML model, specify default values, define test models and specify the parameters that are applicable when the simulation is run.
Produce rich, detailed simulations and precise graphical representations of mathematical formulae without leaving Enterprise Architect.
Generate OpenModelica Code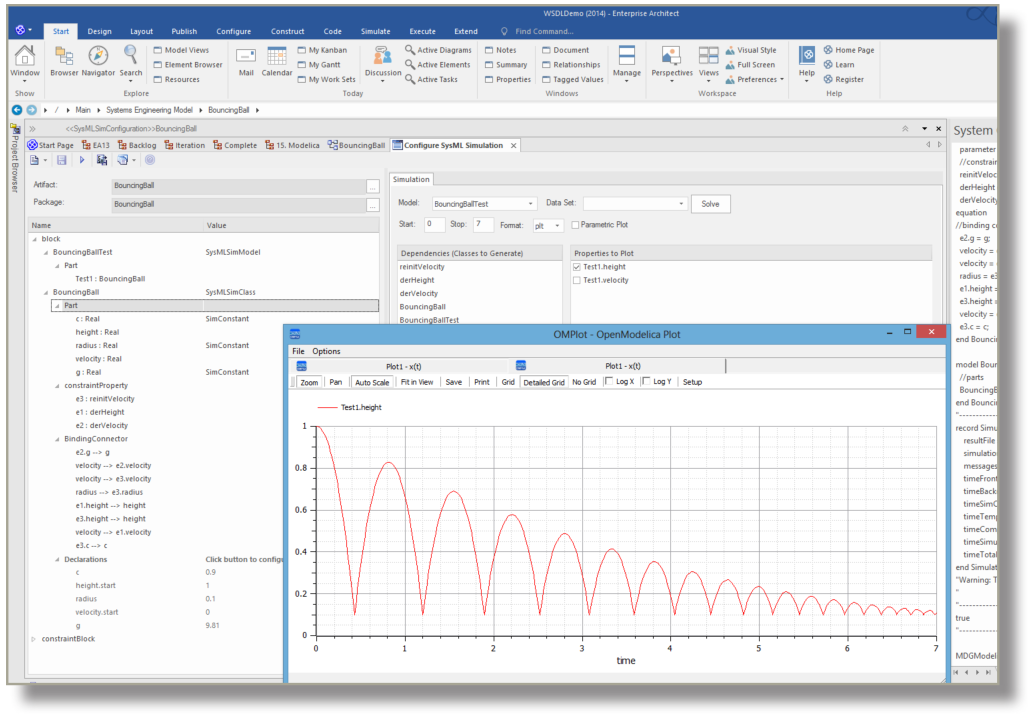 Generate OpenModelica code from your SysML blocks and constraint blocks
Resulting generated code includes linkages between SysML blocks
Code generation is easily customizable via built-in code templates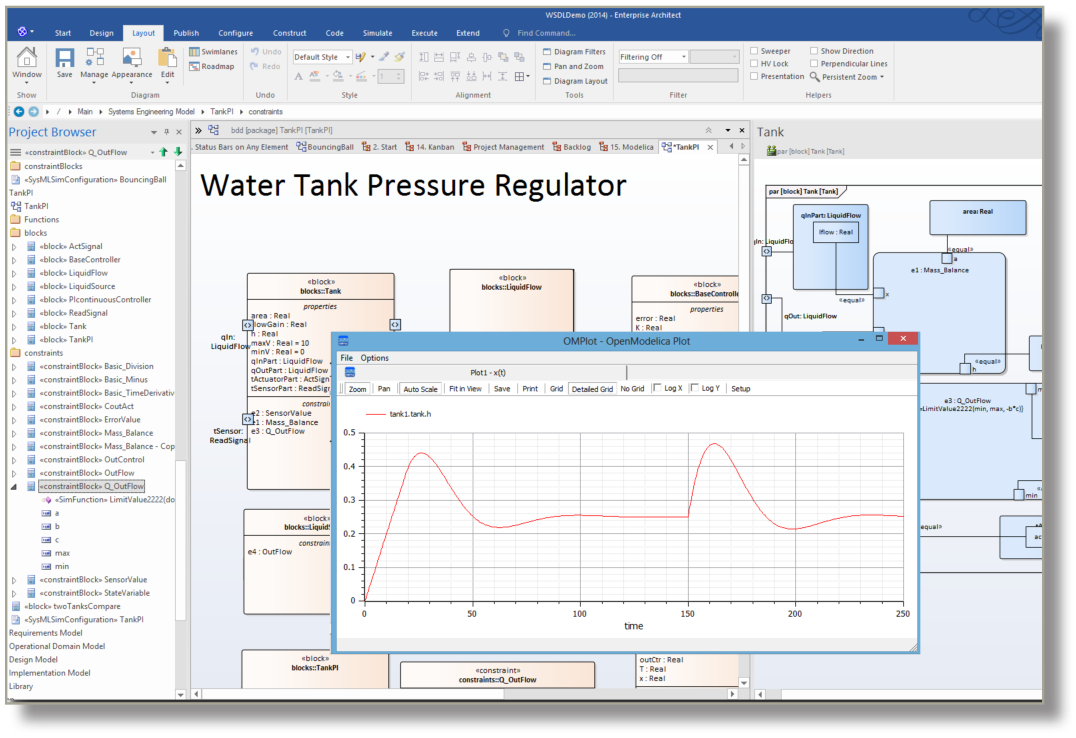 Extensive SysML 1.4 Support
Model with all 9 SysML 1.4 diagrams
Specify system requirements with powerful requirements modeling support
Design deeply-nested structures of systems and sub-systems using blocks and block diagrams
Analyze system-to-system behavior using Interaction Diagrams, Activity Diagrams and State Charts
Define system dynamics and enforce correctness with parametric and constraint blocks
SysML 1.1, 1.2, 1.3 and SysML 1.4 supported
Visualize and trace requirements to model elements throughout the development lifecycle
Team Communication: Create posts, access discussions and manage threads
Custom Searches: Perform complex searches, view SysML Allocations and generate reports

Supporting Systems Engineering
Enterprise Architect
MDG Technologies
Frameworks and Features
Start Today!
Download a fully operational 30 day trial, compare which edition of Enterprise Architect
is best suited to you, or purchase your own copy of the award winning and best value
lifecycle platform in the market today.
All trademarks and registered trademarks are the property of their respective owners.