Creating a Project
It is easy to get started with Enterprise Architect, and within a few minutes, you can have a project set up, and in just a few hours, you can have your model populated with your own content and be well on the way to getting unprecedented value from the tool. A project is really a repository, a more technical word for the container where you will place your modeled content. Productivity tools will get you off to a flying start and allow you to derive immediate value from your models. Still, the first thing is to create a repository that will store the elements, diagrams, documents, and discussions that you add as you work in the tool.
Enterprise Architect conveniently allows you to create a file-based repository that you can set up yourself without involving your Information Technology department. You can happily work with other modelers by placing the file on a network drive where other team members can access it. Conveniently, as you progress with your modeling and perhaps as others join your modeling project, you can easily transfer the file-based repository to a server-based repository either on your premises or in a cloud environment. A server-based repository allows more rigorous repository management such as automated database backups, richer collaboration opportunities, and web-based views of your models.
The Start Page
The Start page opens when you launch Enterprise Architect.  It allows you to create a local (file based) repository, by clicking on the option 'Create New'.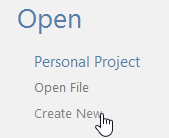 Create New option available on the Start page
This will open a 'New Project' dialog where you specify the file name and location of your new repository. Remember if you want to work with a small number of other team members (up to five or six) you can place this file on a network drive or you can move it at any time when you want to work with other people. Once you close the dialog Enterprise Architect will load your blank repository.
In the Browser window (pressing F2) rename the 'Model' node using a suitable name e.g. 'Your Organization Name' or 'Your Project Name'

Browser window with the default root node, which is the starting point of your repository structure
You can continue to add other Packages to the Browser window either before you start adding content such as elements and diagrams or as you go along. The structure will depend on what type of enterprise or projects you are working on and how you want to structure your work. Two common ways of working are:
A single repository that contains organizational level and all project-level content
A single organizational level repository and a separate repository for each project
These are just two common ways of structuring your repositories, but there are many other ways of working that can be hybrids between them, and the best way for you will depend on your individual context. Rest assured, service companies and partners can advise you on the best setup for your circumstances.