Setting your Perspective
Enterprise Architect is a feature-rich tool and provides a full range of facilities for almost any modeling context, including Strategy, Requirements, Business modeling, Enterprise and Solution Architecture, Information and Database modeling, and Systems Engineering, to name a few. The tool has many features that will help you stay focused on what you are doing and give you the freedom and flexibility to use other facilities.
Perspectives
To ensure you get the best out of the tool and stay focused on what you are doing, Enterprise Architect provides Perspectives that allow focused modeling contexts. Once you have selected a Perspective, the other features are never far from hand, and any time you want to use other items, it is as simple as choosing another Perspective.
Selecting and changing Perspectives is straightforward using the icon in the top right-hand corner of the application window.

The perspective selector.
Let's say, for example, that you want to do some Requirement modeling - you select the Requirements Perspective, which will allow you to focus on Requirement Modeling and Management. Whenever you add diagrams, you will only see the Requirement diagram options, but remember all the other tool features are close at hand - all you need to do is change Perspectives. You can even create your own Perspective that contains a number of facilities, such as Requirements, Business Process Modeling, and Mind Mapping.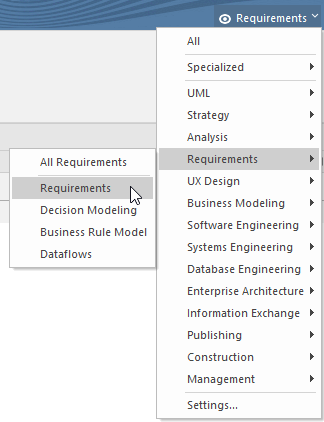 List of available perspective sets and perspectives they contain.
Ribbons
The ribbons provide a welcomed and familiar interface to the tool features and can be customized to suit the way that you work. The ribbons have been carefully designed by modeling experts and place the rich features at your fingertips in any modeling context. For example when working with diagrams you will be able to use the Layout ribbon to align diagram objects, change colors, and styles and create expressive layouts that will make your diagrams compelling and communicative.

Commonly used panels of the Layout ribbon.
While the ribbons make it easy to find the features you are looking for, there is a universal way of locating a tool feature that allows you to search using a keyword such as 'Baseline'. The 'Find Command' option is conveniently located at the end of the ribbon bar next to the last ribbon (usually 'Settings').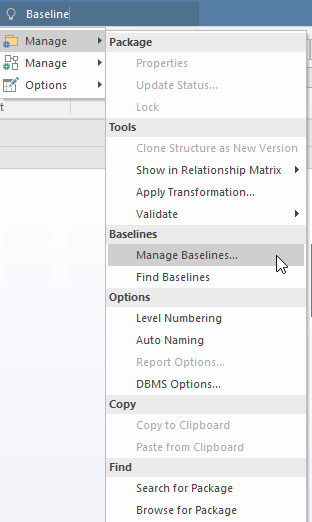 The Find Command used to locate the baseline tool.
Workspaces
When you open Enterprise Architect for the first time, the application will open the default window layout (or workspace). The tool has a large number of workspaces that have been carefully designed to provide the most useful windows for a given modeling context. For example, suppose you are doing Requirements modeling. In that case, you can choose the Requirements workspace available from the Design group, which will open several windows helpful for specifying, viewing, and organizing requirements.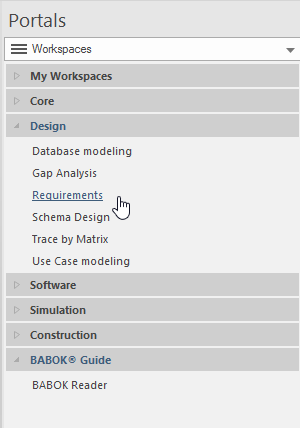 Workspace portal with selected workspace.
You can also create and save any number of your own workspaces with window and tool features that are instantly reopened when you select the saved workspace from the My Workspaces section of the Workspace portal.