Cloud Computing
The central repository described in the previous topic can be accessed directly from the Enterprise Architect desktop client, using appropriate database connectivity layers (ODBC) and the accompanying drivers. There is, however, another powerful and easier way to access a repository hosted in a Cloud, and that is via Cloud services using the http or https protocols. The Cloud can be on-premise or off-premise and there are many ways the Cloud could be configured. There is also a Server comprising a number of modules that can be purchased, called the Pro Cloud Server, which provides a variety of tools, facilities and ways to view the models via a browser on a computer or hand held device, such as a tablet or smart phone. For more information see the Cloud Based Repositories topic.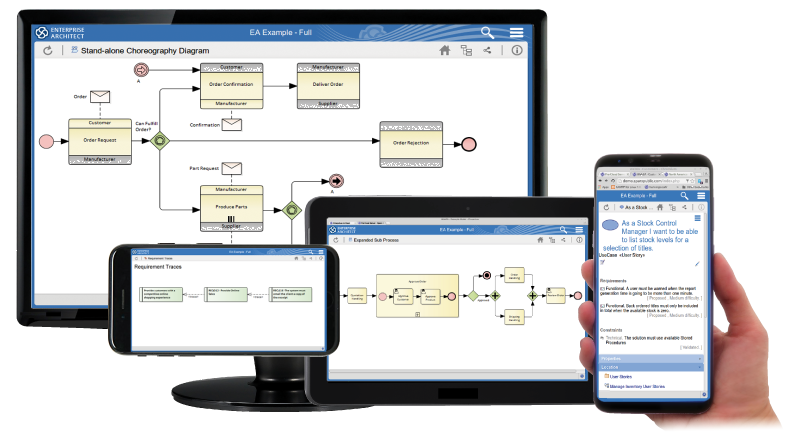 This provides a platform for working with a variety of stakeholders, from Engineering Managers to Consulting Engineers, locally located or distributed across the globe. The power of this way of working can be realized with minimal set up and the benefit of having all team members and stakeholders viewing and contributing to the same models cannot be underestimated.
Productivity gains can be achieved by being able to get valuable and timely feedback, or to discuss a diagram with an engineering consultant while they are traveling on a train to a trade show, or from the engineering lead while on a break from a symposium - all in real time and within the model from a smart phone or tablet.
The Pro Cloud Server also provides connectivity to a wide range of other tools and platforms, spanning Requirements Management systems, Configuration Management Tools, Issue Tracking Systems, Project Management Systems and more.
This screenshot shows a list of some of the available integrations, although this list is being added to regularly so it is worthwhile checking whether additional integrations have been inluded.  For more information see the External Integrations topic.