Model Reviews
Model Reviews provide an ability for project stakeholders to collaborate formally in the assessment (review) of model content, including elements and diagrams. This powerful collaboration tool utilizes a number of built in features - such as the Review view - to manage the process of the review and to visualize discussions and contributions to the review. A review diagram provides a mechanism for participants to add elements and diagrams to the review. This diagram contains a number of elements related to the review topic.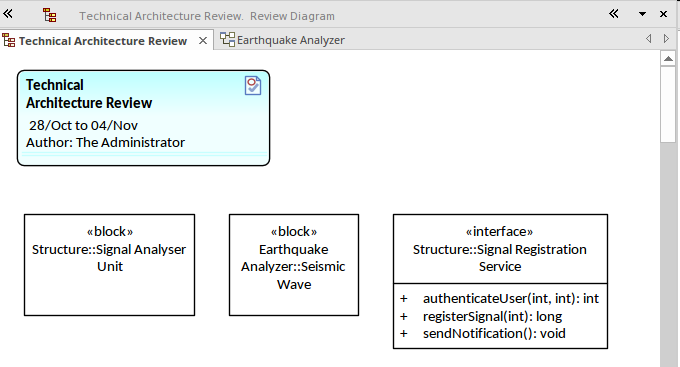 Any number of reviews can be created and modelers can join and participate in the reviews. The launching pad for the review facility is the 'Collaborate' panel of the Start ribbon.

Selecting the 'Review > Manage Reviews' option will open the Reviews view, where all existing reviews will be listed and - with a right-mouse-click - new reviews can be created. The view shows the Review metadata in the left hand panel (including start and end dates) and the review details in the right hand panel, including the element and diagrams that form part of the review and the posts and replies for each item.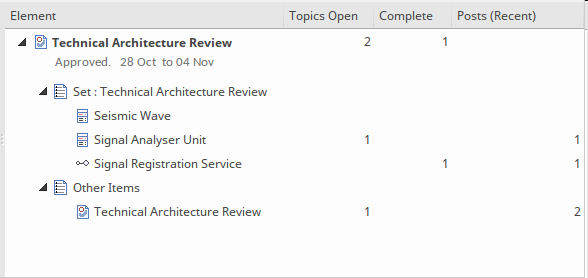 The review comments can be entered and viewed in the 'Review' tab of the Collaborate window. These will keep a running tally of all the posts and replies annotating the post, and replies with the author and the date. In this way highly collaborative outcomes can be achieved and - through the WebEA product available on smart phones and tablets - stakeholders such as external consultants and industry experts could contribute to the review without having to use the Enterprise Architect desktop application.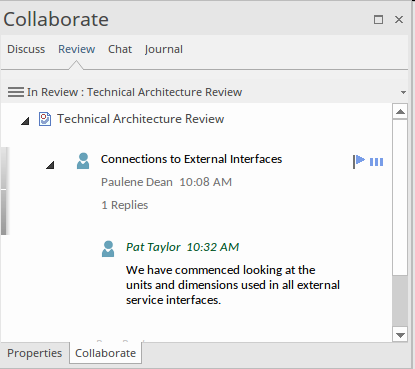 Each of the items in the Review view can have a number of properties set, including the Status and Priority of the review item; these can be seen as two small icons (a flag and a quantity icon) to the right of the item.